Editor's Note
Thanks for keeping the spirit alive. Some of the callers are having discussion on Facebook on how we bring our activity back once the restrictions are lifted. Many of us will be rusty, and square dancing will certainly not be "top of mind" for the rest of the public.
The table below shows a number of clubs starting lessons in August and September. At this point, it is unlikely that any clubs will actually be starting lessons at that time. I'm leaving the listings here, but you'll need to contact folks to find out for sure.
By the way, I have changed the way lessons are stored. In the past, if you showed lessons starting in September, the system would have your lessons start EVERY September. Now, it will ask you to enter the exact date your lessons begin. That way, I don't display old lesson information any more.
---
Click here to find out how to get your information into the OFN, including dances, lessons, photos, flyers, advertisements, and caller/cuer information.
---
We have set up an email mailing list to notify people when a new edition of the online OFN is available, and for other important news about the OFN. To subscribe to this mailing list, just fill out this information:
Federation Events
Coronavirus Update
Most of our square dance organizations are canceling dances, classes, meetings, and special events in response to the rapid spread of the coronavirus. We've compiled a list of the cancelations we know about on the
Federation's web page here
.
---
Federation Meetings
The Federation held a teleconference on July 12, in lieu of Summer Festival The next Federation meeting will be a teleconference on September 20, where our new officers will take over.
---
Summer Festival
The 2020 Summer Festival, which was to be held at the Seaside Convention Center in Seaside on August 21-23, 2020, had to be canceled, due to the governor's orders on large gatherings.
---
Mid-Winter
Oregon's Mid-Winter Festival 2021 will be held January 22, 23 and 24, 2021, at the Linn County Fairgrounds in Albany. At this time, they are still planning to go forward.
---
Other National Events
The 70th National Square Dance Convention® will be held in Jackson, Mississippi, June 23-26, 2021.
The 71st National Square Dance Convention® will be held in Evansville, Indiana, June 22-25, 2022.
The 72nd National Square Dance Convention® will be held in Mobile, Alabama, June 21-24, 2023.
The 73rd National Square Dance Convention has just been awarded to Milwaukee, Wisconsin, for June of 2024.
---
Corporation Renewal Status
All clubs in the Oregon Federation are required to maintain their status as non-profit corporations with the State of Oregon. The Secretary of State's office mails out a renewal notice about a month before your registration expires every year. The following clubs expire this month:
August 21 -- R Square D
August 23 -- Portland Area Council

When & Where
Download a complete list of the Federation club dances this month, all sorted by date and city.
Everything in the When & Where is extracted from the state directory information. If you find that your club information is wrong, you can fix that by going to the directory information area and fixing your data.
Obituaries
Reba "Ruth" Canby

The Sunset Promenaders are sad to report the loss of their founding cuer, Ruth Canby. After a four month battle with congestive heart failure, Ruth suffered a fatal attack on July 3, 2020. Ruth Cued the Sunset Promenader dances for twenty five years and taught numerous couples to round dance. Ruth was also a popular guest cuer with many clubs in the Willamette Valley and on the Oregon Coast. She was an active member of the Capitol Callers and Cuers association and served as the TVC Cuer Advisor. As a member of the Sunset Promenaders, Ruth not only cued dances, she contributed with decorations, potluck food and kept a series of scrapbooks for the club taking many of the photographs herself. That was in the day when we had to take our film to be developed and Ruth always got two copies, one for the scrapbook and one to be given to the couples pictured. She was a treasured part of the club and continued to attend club events whenever possible so even new members knew Ruth from club picnics and other events.

While Ruth was very busy with Square and Round dancing, she was also active in her church, on several bowling leagues, winning many senior high game and high series trophies, and in her Rebekah and Odd Fellows lodges holding many local and statewide offices. When she wasn't occupied elsewhere Ruth kept busy with solving crossword puzzles in ink, she read voraciously and had an amazing container garden. She would have been so upset to have missed out since her first tomatoes ripened less than two weeks after her death.

Ruth Canby March 15, 1929 – July 3, 2020

Nell Killebrew

April 2, 1934 – July 16, 2020

Barbara Nell Killebrew moved from Texas to Astoria, Oregon spring of 1964, then in 1972 moved to Canby, Oregon. She also lived in Lake Grove, Milwaukie, Sellwood, Oregon City, Gladstone, Eagle Creek before landing in Aloha for the past 11 years.

With four children in tow, while living in Astoria bowling became a family activity. Her youngest daughter and granddaughter are still active in the bowling activity.

She was very active with the Civil Air Patrol, Oregon Wing for many years. She participated in summer encampments and several search & rescue missions for downed aircraft. All four of her children became cadet members as well, joining her in these activities.

In 1985 she took square dance lessons from the Tigard 59'ers (now part of the Tri-Squares.) She was a member of the Oaky Doaks and Plus Nuts. She moved her membership to the Coast Swingers (now the Wave Steppers) when her oldest daughter became the club caller. Next, she joined the Country Capers (now an inactive club) when her daughter became the club co-caller. When she moved to the Aloha area, she joined the Valley Squares. Until her recent health concerns made it impossible to dance. She worked for the Promenade Square Dance Shop for several years also. She attended many festivals and served on a committee for the 1994 National Square Dance Convention hosted in Portland, OR.

She is survived by four of her five children: Janet Shannon, Tempe, AZ; Jimmy (Kathy) Shannon, Vernonia, OR; Billy (Laurie) Shannon, Curlew, WA; and Shirley (David) Ridley, Casa Grande, AZ. She has three grandchildren; four great-grandchildren and one great-great grandchild. As well a niece and nephew in Texas.

At this time there is no celebration of life planned.

Available Callers & Cuers

You can download this list of callers and cuers who are available and ready to call or cue a dance for you.

Callers:

Daryl Clendenin

14421 SE Jupiter Ct

Milwakie, OR 97267

503-285-7431

daryl@clendenin.net

Cece & Sarge Glidewell

PO Box 1928

Klamath Falls, OR 97601

541-892-6646

541-892-2383

sargenceceg@outlook.com

Ian Craig

6100 NE 138th Ave

Vancouver, WA 98682

360-931-9134

ian@doplanner.com

Henna Yauger

14915 SE Brookfield Dr

Oregon City, OR 97045

503-780-1912

doglady2001@rocketmail.com

Cuers:

Cece & Sarge Glidewell

PO Box 1928

Klamath Falls, OR 97601

541-892-6646

541-892-2383

sargenceceg@outlook.com

Joyce Hooper

Beaverton, OR 97005

503-891-0587

ptldrose01@yahoo.com

Rikki Lobato

2230 SW Webster Rd

Grants Pass, OR 97526

541-295-5270

rikkisrounds73@gmail.com

Federation Links

Oregon Round of the Month

The Blue Mountains Council has chosen the August Oregon Round of the Month: "Down on the Farm", Phase II Two Step, choreographed by Connie Ritchie, music by Tim McGraw. Download your cue sheet here.

For more information on the Round of the Month, please contact .

Lessons starting in August and September

Please note that, due to the coronavirus, there will probably not be any square dance lessons this fall.

Everything in this section is taken from the state directory information. If you find that your class information is wrong, you can fix that by going to the directory information area and picking to the "Lessons" tab.




Boring

Country Cut-Ups

Boring Barn

13987 SE Richey Rd.

Mainstream

Thursdays, 7:30 PM Starting 9/10/20

Contact: Young Lumsden (503) 791-7779

Salem, OR

ReVuN'Q
Salem Square Dance Center
3695 45th Av NE
Rounds
Thursday, Sept. 10, time to be announced
Contact: Marilyn Schmit 503-508-0539


Port Orford

Crook County Mavericks
Beachcombers Cove
43452 Nicholson Dr
Intermediate
Sunday
Contact: Dave Cooper 541-771-1706 or email cooper


Roseburg

Buckeroo

Buckeroo Barn

5051 NE Stephens St

Mainstream

September 14,2020 Mondays, 6:00 PM

Contact: buckeroomembershiplessons@gmail.com

Vancouver, WA

Happy Hoppers

Washington Grange #82

7701 NE Ward Rd

Basic

Mondays, starting Sep 14 at 7:30 pm

Contact: 360-450-7029 Gil Shoemaker

Vancouver, WA

Happy Hoppers

Washington Grange #82

7701 NE Ward Rd

Plus

Mondays, starting Sep 14 at 6:30 pm

Contact: 360-450-7029 Gil Shoemaker

Tigard

Tri Squares

Tigard Grange

13770 SW Pacific Hwy.

Two-step

Sundays, 2:00 - 3:15pm (first day Sept. 22)

Contact: Trisquares.Info@gmail.com

Bend

High Desert Dancers
Pine Forest Grange
63214 Boyd Acres Rd
Mainstream
Thur/Sun, 6:00---8:00 pm, September 24-November 19
Contact: Kay Bithell, 541-382-7014






Special Dances

August 21 (3rd Fri)

Eager Beavers

Cancelled Oregon Summer Festival Weekend

Summer Beach Party Seaside

Caller: Daryl Clendenin - Jim Hattrick - Randy D

Cuer: Dave Cooper - cuer

View Flyer

October 9 (2nd Fri)

R Square D

Octoberfest Weekend

7:00-8:00 Pre-Rounds; 8:00-10:00 MS w/Rounds

Catlin Grange, Kelso

Caller: Craig Abercrombie; Adam Christman

Cuer: Susan Healea

View Flyer




All the Flyers

Click a thumbnail to download the flyer.

Pictures

Click a thumbnail to see the full-sized picture.

Councils & Clubs

Click a council name to go directly to that section.
No club news received.
Cascade Callers & Cuers Assoc
Our next scheduled dance is supposed to be October 31, but with the coronavirus/COVID-19 still active and growing, we will have to wait and see.
We trust everyone is doing what they can to be safe and that everyone is well and healthy.
Our hall in Springfield was closed around March 9 and will remain closed until further notice.
There is nothing at our hall for the month of July that I am aware of. After that, we will see. It's a little difficult to social distance with square dancing.
You can never be too safe with this virus business.
Wishing you all good health,
Christina Corelli, Secretary
We haven't danced since February and do not expect to be dancing until there is a vaccine available to prevent getting this terrible infection. We see that some clubs around the state and nation have tried using "noodles" cut into quarters so that there is no hand contact but that doesn't meet social distancing requirements and most people agree they cannot dance and wear a mask. With all the restrictions we are not going to take any chances.
Stay well; stay safe.
We'll see friends in a square when it's safe to do so.
Gaynor Hintz
Club Reporter
Misty Valley Cloggers
No club news received.
Like others we haven't danced since February since our last dance in February was canceled when the hall was rented to the Eugene Opera for rehearsals and then we canceled our 2nd Friday dance in March learning of how contagious this virus was and that there were cases close by in Lebanon. We are canceling our dances for July and August and will hope something will break by September.
We normally have our club's annual picnic at Suzanne Peterson's country home near Eugene in July when the blueberries are ripe for picking, but our club members decided to be prudent and put it off until perhaps September. We will take another poll to see how many want to pack their own picnic and sit out under the beautiful shade trees and talk. The property is always lovely but many of the summer flowers will be gone of course. Still it would be fun to see those who want to come socialize for a while.
Gaynor Hintz
Club Reporter and Vice President
Spin Cycle Squares -
Link
We have not had a dance since the end of February, and are dark the full month of July.
We learned that Patrick and his dog, Molly, made it to Wisconsin where Patrick has family. Unfortunately, Molly, Patrick's dog, passed away. She had fluid in her lungs and was in pain. We are so sorry that Patrick lost both his big dogs. One died here in Oregon before the move and Molly after that.
We are continuing to rent the parking lot at the dance hall for a short visit on Sundays. We back our vehicles in a huge circle and either sit on our tailgates or bring a lawn chair. We can visit and see each other and maintain a safe distance. It works.
Stay safe and healthy,
Christina Corelli
Member-At-Large
Sweet Home Squarenaders
No club news received.
No club news received.
No club news received.
Braids & Braves
No club news received.
Capitol Callers & Cuers Assoc -
Link
No club news received.
Cherry City Cloggers -
Link
No club news received.
We are sad to lose longtime member Debbie Hackleman on June 28, following a stroke. Deb and David have been pillars of our square dance club and Deb was often sitting at the front table greeting dancers as they arrived. Her kind and thoughtful manner touched many hearts. We will miss you, Deb!
Golden Squares
No club news received.
Independence Wagon Wheelers -
Link
We were finally able to have a board meeting and now the new club officers can officially start their duties. Our new president is Teresa O'Neill, new secretary is Cheri Batterson and new Sunshine Ronda Whaley. All other officers remained the same. Of course, we are not doing any dancing. We would have been dark in August for the Polk County Fair, but that isn't happening either!
IWW for years has supported Windsor Place (a group of homes in Salem for brain injured adults) with two coffee drives; one in July and one in December. We couldn't collect coffee this July but still found a way to support them with monetary contributions from our club members.
I would say "see you at a dance", but since no one has figured out how to dance and social distance, I will just say stay safe! LaVerne Bennett
Lebanon Square Circlers -
Link
No club news received.
No club news received.
ReVuN'Q
The club celebrated their 44th birthday on June 25 with 27 dancers and a cuer in attendance. Randy Lewis was the guest cuer and cued rounds from Phase 2-4 and did some higher level dances at the end for those who were still in attendance.
The club is in the planning stages for a Saturday round dance event for an afternoon or evening time frame. It will be for those who are unable to attend during the week.
There is also some planning in the works to sponsor a two- step class so after they graduate they can maybe feel comfortable to move up to an intermediate level class the following year. That will give them time to get in some floor time and have the steps mastered before attempting the Phase 3 level. Stay tuned for more details on Facebook. Marilyn Schmit
August 15 (3rd Sat)
Saturday Afternoon Round Dance
Afternoon of round dancing
Salem Square Dance Center, Salem
Cuer: Randy Lewis
View Flyer
Salem Swingin' Stars
No club news received.
Silver City Squares
We really have only two things to report on as not much else is happening. Frances Herigstad has moved to California to be closer to her family there. We will miss her. Once we are allowed to dance again, we will be having guest callers and cuers until we decide on new ones.
Our youth have received some information on the next Teen Festival. Projected dates are May 8 & 9, 2021 as long as everything works out. The kids will have new pins to sell sometime in September. Petrina Buchheit
No club news received.
Willamette Squares
No club news received.
Bachelor N Bachelorettes -
Link
No club news received.
Buzzin Bees
No club news received.
Chaps & Petticoats -
Link
No club news received.
No club news received.
Hello Dancers, from the Happy Hoppers. The questions we are facing these days are how to stay motivated, how to stay connected, and how to keep our clubs alive. It looks like it will be quite a while before we can gather to do social dancing. It was recently suggested by one of our board members that round dancing might be the first to come back since we can do it with a partner we live with, we don't have to change partners, and we can keep a good social distance. And probably wearing a mask! But we are keeping an eye on the governor's decisions and our own concerns about when it will be safe to resume lessons and dances.
At our recent Zoom board meeting it was decided (reluctantly) that we will not have our yearly picnic in August. We will revisit the question again at each board meeting to determine if we will be able to have one at a later time this year.
So, it seems like staying connected to our members becomes the most difficult and most important task. To this end we are trying to generate some group emails that let people share what they've been up to while staying close to home. So far, not a great response but we'll keep trying. Also, one of our esteemed members has started calling people she knows that are living alone to see how they are doing. What a great contribution. Thank you, Jackie Amundson! Another great idea was presented to listen to Buddy Weaver's videos: Square Dancing for One Couple. Not perfect but keeps the calls in our minds and we can do it in our homes. So stay tuned. Next month we will
hopefully have a more optimistic report.
Janet Linebarger
Heads to the Center -
Link
No club news received.
No club news received.
River City Dancers -
Link
Writing this just to let you know we are still here and still in a holding pattern (so to speak.) Due to COVID 19, we are still not dancing. We are all hoping and praying that it will not be much longer before we will be able to dance together again. In the meantime, we are putting safety first and not dancing until safe to do so.
We miss all our square dance family and hope you are staying safe and well. When we can safely dance again, we will let you know.
Carol Mendenhall
We are now in Week 17 of the Ramblers Respite. In an effort to relieve our ennui, we had a Rambler Rendezvous in Portland's Sellwood neighborhood on Sunday, July 5. We took a two-mile Ramble through the neighborhood. Because we were outside and we all wore masks, we felt this was a relatively safe activity and a nice way to check in with other club members. We saw some beautiful and bucolic scenery along the pristine Crystal Springs Creek in the middle of the city. What a nice break from our routines!
We will plan another Ramble in August to try to maintain ties among our club members.
The square dance news is less positive. We continue to be on indefinite suspension. We have formally canceled our September monthly dance on September 12. We have also canceled our Scares and Squares dance weekend scheduled for October 23-25.
Wishing patience and good health to all.
Jeff Knapp, President
No club news received.
Columbia River Dancers -
Link
No club news received.
"When will this ever end? When can we dance again?" is a heard again and again from my dancing friends. Maybe this refrain should be the repeated chorus of a song. I think most of our members are trying to keep themselves healthy to be ready when we get the call to "come to the dance tonight". That will be a happy day. Keep your fingers crossed and keep those future dates for dances circled on your calendar. Even pandemics come to an end one way or another.
Thanks to all those people who have been sharing on OFN and Face Book how to dance just as a couple or as one. Some people are doing round dances with a limit on total number of people. Keep all these ideas coming!
Keep checking for our start date at www.EagerBeavers.info.
The following message is for your information when life as we used to know begins again: We dance on most holidays. Even if you have a job, you can join us once in a while. Our three callers keep us on our toes as each week one seems to have some new twist to keep our minds sharp. All plus dancers are invited to dance with us on Monday afternoons, 1:00 p.m. - 3:00, at the Aloha Grange, 3425 SW 185th, Beaverton, 97006
Rachel Nettleton
August 21 (3rd Fri)
Cancelled Oregon Summer Festival Weekend
Summer Beach Party Seaside
Caller: Daryl Clendenin - Jim Hattrick - Randy D
Cuer: Dave Cooper - cuer
View Flyer
No club news received.
No club news received.
August makes me think of picnics! Back in the old days, when Bill Helms was our caller, the 3 clubs for which he called (Fun Lovers, Rose City Squares, M&M's) would get together for a potluck picnic up in the grassy area next to Capitol Community Center. It was always a good time with lots of food, BBQ burgers and camaraderie. When circumstances changed, the M&M's continued to have their own Club picnic but moved it to Tualatin Park which was just around the corner from where we danced. We were always especially pleased to see Dan arrive with his ice cream maker - - treating us with something yummy and refreshing and topping off a fun day. Eventually, the yellow jackets brought a demise to our outdoor picnics, and although we tried holding the potluck in the basement of the Grange it just wasn't the same. We quit having picnics and instead added the "Red White and Blue" dance to our calendar - we didn't want anyone missing out on the tradition of Dan's homemade ice cream!
Here's hoping that you get a chance to picnic outside with friends or family this August but if you don't maybe, like us, you can at least just enjoy a little ice cream!
We will keep you updated on calendar changes thru this OFN report as well as our website: www.mixandminglesquares.org
Lindie Noonan
No club news received.
We did have a club meeting in June. At the Kelso Senior Center we had space to social distance and most were wearing face coverings. The turnout was better than usual. We have missed our dancing friends so much we are even willing to attend a club meeting to say "hi".
The difficult decision to cancel Octoberfest for 2020, was made. As with all clubs at this time, making provisions for future gatherings seems fruitless. We cancelled our coffee stop, one of our primary fund raisers. A demo for the fair was cancelled...on and on it goes.
Our next meeting will be at Pat Faires' lake house. Plenty of room for social distancing. A Labor Day campout is scheduled at Vista Park in Skamokawa, another outdoor venue and opportunity to gather safely.
That will wrap up our summer, until we meet again. We hope our feet remember the moves because our minds seem a bit fuzzy. (Should say only speaking for myself)
Reminder that any dances after September 1st will be regular schedule, 2nd Friday and 4th Saturday at 106 NW 8th Ave, Kelso, WA 98626. Kelso Senior Center by the Rotary spray park at the intersection of Hwy 4 and W Main, Kelso/Longview.
Regards to all, and may you be healthy until we meet again in a square. For current information see: www.r-square-d.info.
Annie Tietze
August 12 (2nd Wed)
Back to School Dance (Casual/Root Beer F
Dark
August 26 (4th Wed)
Summer's Last Hurrah! (Casual/Ice Cream
Dark
Sunset Promenaders -
Link
No club news received.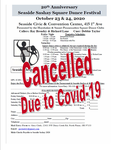 August 24 (4th Mon)
Cancelled Seaside Sashay
8:00 AM
View Flyer
No club news received.
We are continuing with our monthly board meetings over Zoom and it's nice to see one another, although the meetings grow shorter with not much on the agenda. Right now the pandemic seems to be increasing around the country, but we're still hoping to get together on August 16th for our annual picnic at a lovely park in Sherwood. However, It may have to be a situation of bring-your-own-food, wear a mask, and space yourself six feet away from anyone else — instead of a potluck. The park has lots of tables under the shelter. We'll see.
The board did decide that there will be no dancing lessons in the fall. We're looking at January as a possibility now. Everyone please follow the CDC guidelines, stay safe, be patient, count your blessings, and tell me to do the same.
Gloria Davis
Valley River Dancers -
Link
Valley River Dancers has no news to report. We are all missing square dancing and round dancing, but are playing it safe for now. So no dances for the time being.
Judy Zimmerman
No club news received.
No club news received.