President's Corner
September 2022. How did we get here so fast? Seems hard to believe that a year ago at this time, I was grappling with the fact that I have to put an article in the OFN and what I was going to say. Managed to do it and it seemed like each month it got a little easier figuring out what to say. Now, this is my last one.
For the last few months, I have been talking about promoting classes and what we can do to get new students to help build our activity. I got a little "wake-up" call in the last month. We need students and we need new dancers that is true, BUT we also are in great need of callers and teachers for these students. I mean, what good is getting 30 or 40 students only to have no one to teach them??
Sadly, we do not have many callers here in the state anymore and a majority of those of us who are calling are over 70 years of age. While we have a lot of experience (many of us have been calling since our 20's or teens), who knows how much longer some of us will be willing or able to continue? If you, or someone you know in your club, would be willing to learn to call, let your club caller know. All of us will be willing to help someone learn to call. We have two excellent caller teachers in this state in Daryl Clendenin and Roger Putzler. Daryl is also an accredited Caller Lab caller/coach. They both are great resources.
We as dancers must also support anyone who would like to try and call. Do not expect a person with a month's experience to be as polished as someone who has been calling for 15, 20 or even 30 years. It is a process.
Thank you again for a year of leading the OFSRDC. I have learned a lot. My only regret is I did not get to do what I wanted to do. I had plans to visit every club in Oregon during my term. But the COVID thing, MY calling schedule and my wife's health did not allow that. I still…..
Hope to see you in a square soon and…..
Let's Start Dancing Again
George Hermann
OFSRDC President 2021-2022
Editor's Note
As we start into the new square dance year with new lessons starting, remember to give your students a link to the OFN (easy to remember: "ofn.club") so they can find where others are dancing.
---
Click here to find out how to get your information into the OFN, including dances, lessons, photos, flyers, advertisements, and caller/cuer information.
---
We have set up an email mailing list to notify people when a new edition of the online OFN is available, and for other important news about the OFN. To subscribe to this mailing list, just fill out this information:
Federation Events
Federation Meetings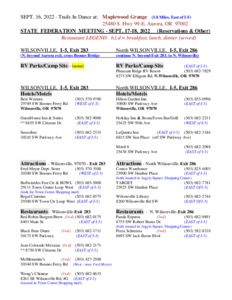 The next Federation meeting will be hosted by the Portland Area Council, and will be held at the Maplewood Grange in Aurora on September 18. Click the left image to fetch the flyer. Click the right image to get the list of motels and hotels.

---
State Fair Dancing
We have been informed there will be square dancing at the state fair this year. Tentative schedule:
Tuesday, August 30, 1:30 to 2:30, Mainstream
Thursday, September 1, (canceled)
Saturday, September 3, 1:30 to 2:30, Youth
Please contact Marilyn Schmit for questions or info, 503-508-0539, or froggydancer@live.com.
---
Mid-Winter
Mid-Winter Festival 2023 is scheduled for January 27-29, 2023, at the Linn County Fairgrounds in Albany.
---
Summer Festival
There is currently no Summer Festival planned for 2023.
---
Federation Links
---
Other National Events
The latest news about the National Square Dance Conventions® is located in the National Squares magazine, produced by the NEC. You can find the latest issue here: (http://nsdcnec.com/flipdocs/NatSqOnline/Natsq1120/index.html)
The 72nd National Square Dance Convention® will be held in Mobile, Alabama, June 21-24, 2023.
The 2023 USAWest Convention will be held in Albuquerque, New Mexico, July 26-29, 2023.
The 73rd National Square Dance Convention® will be held in Milwaukee, Wisconsin, June 26-29, 2024.
The 74th National Square Dance Convention® will be held in Shreveport, Louisiana, June 25-28, 2025.
---
Other National Links
---
Corporation Renewal Status
All clubs in the Oregon Federation are required to maintain their status as non-profit corporations with the State of Oregon. The Secretary of State's office mails out a renewal notice about a month before your registration expires every year. The following clubs expire this month:
September 3 -- Wave Steppers
September 11 -- Hoedowners
September 15 -- Willamette Squares
September 19 -- Braids & Braves
September 21 -- Mid-Willamette Council
September 23 -- Lebanon Square Circlers
September 23 -- Valley River Dancers

When & Where
Download a complete list of the Federation club dances this month, all sorted by date and city.
Everything in the When & Where is extracted from the state directory information. If you find that your club information is wrong, you can fix that by going to the directory information area and fixing your data.
Letters and Articles
Click on the title to see the article.
River City Riders

The River City Riders, now proudly sponsored by the Country Cut-Ups of Boring, wish to announce their successful trail ride across the states to Evansville, Indiana, for the 71st National Square Dance Convention! On their way, they stopped in Branson, MO, and took in two shows. Their trail ride across the states to Evansville ended with three great performances. Jolene's cousin and her hubby, Janice and Fred, dropped in from Illinois and recorded the second performance for YouTube. Go check it out under "rivercityriders".

We would like to thank our 71st NSDC Exhibition Directors, Nadine Henry and Brenda Bolinger, for the excellent care they took to help us keep on track.

Thank you to the 71st NSDC for the joy of dancing once again!

Thank yous are due to Jolene & Ed Cummings (lead horses), Danny & Carol Williamsen, Young & Robert Lumsden, Laura Bonocorsi, Lois Manos, and Ron Rasmussen.

Our caller, Jim Hattrick, has provided our programs for the last 11 years and we say "thanks, Jim, you make it happen!" Your excellence in calling comes through for us. You rock!

Our next ride is to San Diego for the USAWest Square Dance Convention, August 17-20. We perform Thursday 4:45 and Friday 6:50 in the Crystal Ballroom, and Saturday 4:30 in the Presidio Ballroom.

Coming events for us: R Square D Octoberfest, October 15 at 7:15 PM, and Seaside Sashay, October 22 at 6:45 PM.

Lessons Around the State

If you have friends that you would like to introduce to square dancing or would like to increase your dancing skills, please check out the list of lessons that are being held throughout Oregon. Many of the clubs on this list have flyers in the Lesson section of the OFN this month. Please share the individual flyers and this lesson list with your friends and family members.

Kathy Roberts OFSRDC Publicity and Education

Obituaries

Chuck Bos

Charles "Chuck" Bos was born to Gladys Belle Gable and Peter Cornelius Bos on June 27, 1933 in Rock Island, Illinois, but lived in Davenport, Iowa. He was the second of 7 children. The family moved to Sellwood, Oregon in October 1945. Chuck graduated from Benson Polytechnic High School on June 1953.

He married Beverly Van Buskirk on January 12, 1955. They has 5 children: Larry, Steve, Becky, JoAnne, and Keith. He married Judy Gelmstedt on April 8, 2006.

He is survived by his wife, Judy; children, Becky, JoAnne, and Patty; 8 grandchildren; 11 great-grandchildren; his brother Jerry (Sandy); his sister, Ruth Quigley; and numerous nieces and nephews. He was preceded in death by his parents, Peter and Gladys; Beverly; children, Larry, Keith, and Steve; sister, Marjorie; and brothers, Pete, Don, and Bob.

Chuck loved to fish, golf, and garden. His favorite activity was whichever he was doing at the time. His first garden was a nice straight row of grass. His dad let him get some seeds out of the shed and when it came up, it was grass.

He started golf caddying when he was just 9 years old

He started fishing with just a pole, line, and no reel. He enjoyed it so much that he wound up owning 44 poles, reels, and numerous lures.

He was a proud member of the Oregon National Guard.

He taught Hunter Safety from 1969-1994. He was very proud of the fact that he won several awards during that time and graduated many safe hunters, including his own sons.

Chuck and Beverly roller skated at Oaks Park while dating and even entered a competition one year after they were married.

He did a tandem parachute jump on his 60th birthday.

He and Judy started Square Dancing in 1998 and were active for several years. He was a member of the PAC council for 15 years, worked on the National Square Dance Convention in 2005 and 2 state Summer Festivals. His favorite move was a yellow rock, and he was happy to demonstrate it to any woman or child that was interested in learning. He has a badge that says "Powered by hugs and I am low on fuel."

He also loved to tell the grandkids to eat the crust on their toast, it would make their teeth strong.

He loved "Country Music," the old country music.

He hated computers, his favorite sayings were "I don't even know how to turn one on" and "get a pencil and paper and stop complaining."

Chuck attended the Hillsview Community Church in Boring, Oregon. For the last 10 years, Chuck loved reading his Bible and did so every day. Everyone knew his favorite books were Job and Revelations. Job because he could associate with it by losing everything and then being blessed by more than what you had lost. He never lost faith. Revelations because he couldn't understand it, but he kept reading, studying, and trying. His motto was "Judge Not" and he made and handed out cards with those words to anyone and everyone.

Chuck's final resting place is Forest Lawn Cemetery in Gresham, Oregon.

Gary Wells

Lessons starting in September and October

Everything in this section is taken from the state directory information. If you find that your class information is wrong, you can fix that by going to the directory information area and picking to the "Lessons" tab.





New Dancer Jamborees




Special Dances




All the Flyers

Click a thumbnail to download the flyer.

Advertisers

Please support our advertisers, since they help support the magazine. Click a thumbnail to see the full advertisement.

Pictures

Click a thumbnail to see the full-sized picture.

Councils & Clubs




Blue Mountains Council

No council news received.

LaGrande Star Promenaders

No club news received.

September 22 (4th Thu)

Regular Dance

Not holding regularly scheduled dances

Fort Union Grange, Island City

Cuer: Guest Cuers

Muddy Frogs

No club news received.

September 18 (3rd Sun)

Regular Dance

2 to 4 p.m.

Milton-Freewater Comm Bldg, Milton-Freewater

Caller: Guests

Cuer: Guests

Central Oregon Council -

Link

No council news received.

High Desert Dancers -

Link

No club news received.

September 3 (1st Sat)

Regular Dance

7:00-9:30 pm squares/alternate with rounds

Pine Forest Grange, Bend

September 9 (2nd Fri)

Regular Dance

7:00-9:30 pm squares/alternate with rounds

Pine Forest Grange, Bend

September 17 (3rd Sat)

Regular Dance

7:00-9:30 pm squares/alternate with rounds

Pine Forest Grange, Bend

September 23 (4th Fri)

Regular Dance

7:00-9:30 pm squares/alternate with rounds

Pine Forest Grange, Bend

Caller: Darrell Kalmbach

Cuer: Tom Klug

September 30 (5th Fri)

5th Friday Plus Dance

7:00 PM

Pine Forest Grange, Bend

Caller: Roger Putzler

Cuer: Mark McDonald

Kountry Rhythm Rockin Outlaws

Howdy Dancers!

We have had to make a huge change in our Country Fever Dance/Campout Weekend on Oct 7-9 2022 with Jet Roberts. With his home base work schedule and trying to get an affordable flight to fit his schedule and our Club's contracted budget with him, we and Jet had to make the difficult decision to not have him as our featured Caller for this scheduled weekend.

Jim Steele has been a fantastic caller since 1961, and instead of sharing, will now be the featured caller for the entire weekend! Everything is still the same with price, food menu and dance schedules, everyone can still bring RV's and camp right on the property as the dance hall.

Please make note that our Pre-Registration date has changed from Sept 1, 2022 to August 15, 2022 as we need to know further in advance the headcount for our food menu as we feed everyone every meal all weekend long!

Please check our revised Country Fever Flyer.

September 11 (2nd Sun)

Mainstream Workshop Sunday - No Rounds

3:00 - 5:00pm

Pleasant Ridge Community Hall, Redmond

Caller: Jim Steele

September 21 (3rd Wed)

Kountry Rhythm Rockin' Outlaws - Plus Wo

Every Wed Night PLUS Workshop Night - Reserve your Spot! 6:

Pleasant Ridge Community Hall, Redmond

Caller: Jim Steele

View Flyer

September 25 (4th Sun)

Dessert Sunday Afternoon Dance w/Rounds

3:00 - 5:30pm

Pleasant Ridge Community Hall, Redmond

Caller: Jim Steele

Cuer: Mark McDonald

No club news received.

September 2 (1st Fri)

Regular Dance

7:00 PM

Redmond Grange, Redmond

Caller: Guest Callers

Cuer: Guest Cuers

September 16 (3rd Fri)

Regular Dance

7:00 PM

Redmond Grange, Redmond

Caller: Guest Callers

Cuer: Guest Cuers

Sagebrush Shufflers -

Link

No club news received.

September 10 (2nd Sat)

Regular Dance

6:30-9:30 PM

Ochoco School Crossing Gym, Prineville

Caller: Guest callers

Cuer: Guest cuers

September 24 (4th Sat)

Regular Dance

6:30-9:30 PM

Ochoco School Crossing Gym, Prineville

Caller: Guest callers

Cuer: Guest cuers

Emerald Empire Council -

Link

No council news received.

September 5 (1st Mon)

Meeting

every two months-call for details

Emerald Square Dance Center, Springfield

September 12 (2nd Mon)

Meeting

every two months-call for details

Emerald Square Dance Center, Springfield

September 19 (3rd Mon)

Meeting

every two months-call for details

Emerald Square Dance Center, Springfield

September 26 (4th Mon)

Meeting

every two months-call for details

Emerald Square Dance Center, Springfield

Cascade Callers & Cuers Assoc

We had our Fifth Saturday Dance the end of July. Not a large turnout, but it was fun. Calling and cueing were Pat and Cherie Cox, Janet Geiger, Tim Matteson, Sandy Harris and Christina Corelli. Cherie came via her wheelchair as she had foot surgery earlier. We wish her a speedy recovery. Sandy Harris came sporting a cane. Gail Jackson, our treasurer, was unable to attend as she suffered a severe shoulder injury just days before. We pray everyone heals up quickly.

Lennie Ludiker (Sheila) retired this past year. We wish him a good retirement to do what he wishes. He is taking care of his wife Sheila who is undergoing a lot of physical therapy right now.

Royal Greenman, former caller and member of CCCA, passed away recently. His late wife was Sharon Greenman. Sharon passed away in 2019. We keep their families in our thoughts and prayers.

Sandy Harris is teaching social square dancing starting August 20 at 4:30 on Saturdays at the Emerald Square Dance Center in Springfield.

Roger Putzler will teach mainstream lessons on Tuesdays starting October 4 at 7:00 and Plus at 8:30.

Our next Fifth Saturday Dance is December 31, but that is usually asked for by a local club. Can you believe it'll be 2023! The Fifth Saturdays in 2023 include April 29, July 29, September 30, and December 30.

Keep on calling and cueing!

Christina Corelli

Our club continues to dance one to two times a month depending on the availability of the hall and dancers. Please check our web site at cas-sd.yolasite.com for tentative dates. In July we only danced once on the 4th Sunday after Diamond Lake Festival. In August we hope to dance two times—Aug. 14 and the 28th and again in September on the 11th and 25th in Hall B from 1:30 to 3:30PM. We dance to recorded tips by national callers. Be sure to contact Fred Beisse for up to date information about our dances.

Please join us when you can,

Gaynor Hintz

September 4 (1st Sun)

Regular Dance

Irregular, please see website link

Emerald Square Dance Center, Springfield

September 11 (2nd Sun)

Regular Dance

Irregular, please see website link

Emerald Square Dance Center, Springfield

September 18 (3rd Sun)

Regular Dance

Irregular, please see website link

Emerald Square Dance Center, Springfield

September 25 (4th Sun)

Regular Dance

Irregular, please see website link

Emerald Square Dance Center, Springfield

Misty Valley Cloggers

No club news received.

September 16 (3rd Fri)

Regular Dance

7:30 - 10:00

Emerald Square Dance Center, Springfield

Cuer: Lauri Weidenhaft

Single Trees dances on the 4th Friday of every month except when festivals or holidays fall on that Friday or the 4th weekend. For example, we opted to go dark in July again this year as Diamond Lake Festival would be in full swing. In August we will dance on Aug. 26 with K. C Curtis calling and Jackie Gale cueing. We're all looking forward to that dance.

In July we had our annual club picnic which we held at Suzanne Peterson's lovely country property just outside Eugene off Seavey Loop Road. No matter how hot it gets it stays nice and breezy under the huge shade trees on her property. We had over 20 members and some friends as well as one of our former callers, Dale Hornberger who was visiting in the area. We all enjoyed the barbecued hamburgers and hotdogs supplied by the club and barbecued by our President Larry Reetz. Besides eating and talking some enjoyed the hayrides Suzanne likes to give so we can see her 5 acres up close and in comfort. Some opted to play croquet or the dog race game which our club treasurer Joy Pitts always brings. We did not do any dancing this year.

We are looking forward to our 2022-23 dance year starting in September. Jim Hattrick will do the calling on the 4th Fridays alongside Jackie Gale who'll do the cueing. Do check our website at singletrees.blogspot.com for more information about our dance schedule.

We dance from 7:30 to 10:00PM starting with pre-rounds for 15 minutes, a plus tip and then mainstream tips with every 3rd tip plus until 10PM.

Hope to see you in a square soon,

Gaynor Hintz

September 23 (4th Fri)

Regular Dance

7:30 pre-rouunds, 7:45 Plus tip; 8-10:00 MS w/3rd tip plus

Emerald Square Dance Center, Springfield

Caller: Jim Hattrick (4th Fridays)

Cuer: Jackie Gale

Spin Cycle Squares -

Link

We dance every Sunday from 4 - 6 at the dance center in Springfield on Yolanda. Tim Matteson is a great caller and will call whatever level we can muster. We've had a few fairly new dancers who are having a great time. We have individually wrapped snacks on hand. We invite you all to join us! We're a fun bunch that's for sure. All dances are casual.

Please call our president, David Lajoie, at 541-520-7311 to make sure we are, indeed, dancing. Once in a blue moon we are dark.

Christina Corelli

September 4 (1st Sun)

Regular Dance

4:00-6:00 p.m. MS Plus & Advanced Call for dates

Emerald Square Dance Center, Springfield

Caller: Tim Matteson

September 11 (2nd Sun)

Regular Dance

4:00-6:00 p.m. MS Plus & Advanced Call for dates

Emerald Square Dance Center, Springfield

Caller: Tim Matteson

September 18 (3rd Sun)

Regular Dance

4:00-6:00 p.m. MS Plus & Advanced Call for dates

Emerald Square Dance Center, Springfield

Caller: Tim Matteson

September 25 (4th Sun)

Regular Dance

4:00-6:00 p.m. MS Plus & Advanced Call for dates

Emerald Square Dance Center, Springfield

Caller: Tim Matteson

Sweet Home Squarenaders

No club news received.

September 10 (2nd Sat)

Regular Dance

September 10, 2022.- June 17, 2023 6:30- 9:00pm

Oak Heights School, Sweet Home

Caller: Jim Voll

Cuer: Jackie Gale

September 24 (4th Sat)

Regular Dance

September 10, 2022.- June 17, 2023 6:30- 9:00pm

Oak Heights School, Sweet Home

Caller: Jim Voll

Cuer: Jackie Gale

August 21 is our club picnic which is hosted by John and Carolyn Pape in their very enjoyable, large back yard. They live on the east side of Springfield. This is a potluck which we are famous for! Thank you John and Carolyn!

Dances start in September. We dance the second and third Saturdays. Our first dances for the new dance season will be September 10 and 17. Mike Kious is the caller. Christina Corelli is the cuer. Please come and join us! 7:00 is Plus and then Mainstream and rounds begin at 7:30.

Roger Putzler will begin new dancer lessons on Tuesday October 4 at 7:00. There will be Plus lessons at 8:30. We encourage angels to attend. Thank you! This is open to all. Families, singles and couples are welcome. There is a family rate for families with 2 or more kids.

Sandy Harris will begin square dance lessons on August 20, a Saturday at 4:30. We encourage angels to attend. Sandy's classes are open to families, singles and couples.

All classes and dances are at the Emerald Dance Center, 2095 Yolanda in Springfield.

Happy dancing!

Christina Corelli

September 10 (2nd Sat)

Regular Dance

7:00 plus 7:30-10:00 ms

Emerald Square Dance Center, Springfield

Caller: Mike Kious

Cuer: Christina Corelli

September 17 (3rd Sat)

Regular Dance

7:00 plus 7:30-10:00 ms

Emerald Square Dance Center, Springfield

Caller: Mike Kious

Cuer: Christina Corelli

No club news received.

September 1 (1st Thu)

TRAVELING CLUB

8:00 AM

September 3 (1st Sat)

Regular Dance

7:30 Plus / 8:00 Mainstream

Emerald Square Dance Center, Springfield

Caller: Sandy Harris

Cuer: Christina Corelli

September 24 (4th Sat)

Regular Dance

7:30 Plus / 8:00 Mainstream

Emerald Square Dance Center, Springfield

Caller: Sandy Harris

Cuer: Christina Corelli

September 30 (5th Fri)

TRAVELING CLUB

Dark

Interstate Highlanders

No council news received.

Klamath Country Squares

No club news received.

September 17 (3rd Sat)

Regular Dance

7:30 p.m.- 10:00 p.m.

Triad School Student Union, Klamath Falls

Caller: Cece Glidewell

Cuer: Sarge Glidewell

Mid-Willamette Council -

Link

No council news received.

September 19 (3rd Mon)

Meeting

Sept, Nov., Jan., Mar., May

Salem Square Dance Center, Salem

Braids & Braves

No club news received.

September 11 (2nd Sun)

Square Dance Lessons

5:00 PM

McMinnville Grange, McMinnville

Caller: Leonard Snodgrass

View Flyer

September 17 (3rd Sat)

Regular Dance

7:00 - 9:30PM

McMinnville Grange, McMinnville

Caller: Leonard Snodgrass

Cuer: Sandra Pinion

View Flyer

Capitol Callers & Cuers Assoc -

Link

No club news received.

September 18 (3rd Sun)

Meeting

September, November, February, May

Salem Square Dance Center, Salem

Delegate: N/A

Cherry City Cloggers -

Link

We just had our semi-annual meeting to plan for the remainder of the year. We will be doing our final demo for the season at the State Fair on September 3 around 12:00 p.m. We are also gearing up for our introduction to clogging lessons to begin on September 20. This will be taught by Glee Johnson and for those who preregister the cost will be $50. More information can be found on our website, cherrycitycloggers.com.

We are also preparing for election of officers in the fall. We have a committee putting together nominees for each office. They will be voted on in October and take over the position January 2023.

Georganne Pfnister

September 6 (1st Tue)

Regular Dance

4:00p - 8:00pm

Salem Square Dance Center, Salem

September 13 (2nd Tue)

Regular Dance

4:00p - 8:00pm

Salem Square Dance Center, Salem

September 20 (3rd Tue)

Regular Dance

4:00p - 8:00pm

Salem Square Dance Center, Salem

September 27 (4th Tue)

Regular Dance

4:00p - 8:00pm

Salem Square Dance Center, Salem

The Corvallis Squares club is planning to hold regular dances again, starting in September! Our dances are the second and fourth Saturdays, and usually are at the First Congregational church in Corvallis, our regular venue. Vaccination required, but masks optional. And — ta da! — we're holding lessons again! Social Square Dance lessons with Sandy Harris will start Thursday, Sept. 29, 7 - 8:30 p.m. at the Corvallis Community Center (formerly called the Senior Center) and run through Dec. 22.

Karen Karplus

September 10 (2nd Sat)

Regular Dance

7:pm pre-rounds; 7:15 Mainstream, every 3rd tip plus

First Congregational Church, Corvallis

Caller: Bruce Lowther

Cuer: Judy Russell

September 24 (4th Sat)

Regular Dance

7:pm pre-rounds; 7:15 Mainstream, every 3rd tip plus

First Congregational Church, Corvallis

Caller: Sandy Harris

Cuer: Sandra Pinyon

Golden Squares

No club news received.

September 5 (1st Mon)

Regular Dance

7:00 P. M.

The Estates Auditorium, Woodburn

Caller: Randy Dibble

September 19 (3rd Mon)

Regular Dance

7:00 P. M.

The Estates Auditorium, Woodburn

Caller: Randy Dibble

Independence Wagon Wheelers -

Link

August is a slow month for the club since we do not dance because of the Polk County Fair. But we will meet to have our Annual Meeting on the second Saturday to vote for officers, discuss the Federation By-Laws changes, celebrate some Honored Members, and discuss future dance ideas.

Lessons will start on September 11 at 6:00 p.m. at the Salem Square Dance Center. George Hermann will be the instructor.

Marilyn Schmit

September 3 (1st Sat)

Regular Dance

7:00-10:00PM

Polk County Fairgrounds, Arts & Craft Bl, Rickreall

Caller: George Hermann

Cuer: Molly Fairly

September 10 (2nd Sat)

Regular Dance

7:00-10:00PM

Polk County Fairgrounds, Arts & Craft Bl, Rickreall

Caller: George Hermann

Cuer: Molly Fairly

Lebanon Square Circlers -

Link

No club news received.

September 3 (1st Sat)

Regular Dance

Dark

September 17 (3rd Sat)

Welcome Back/Root Beer Float Dance

7:30pm Pre-Rounds, 8:00pm Mainstream, 10:15pm Plus

IOOF Hall, Lebanon

Caller: Charlotte Jeskey

Cuer: Jackie Gale

View Flyer

We held our summer meeting during Summer Festival in the round dance hall at Blanchet Catholic School. We welcomed a new member, Molly Fairly, gathered some dues money, and listened to a presentation about DanceWizard from Tim Keck. We heard updates from the Members at Large about dancing in their respective areas. Sounds like round dancing is doing well despite the pandemic.

Sympathy cards had been sent to the families of Janne Norton, Ray Walz, and Joyce Brown. Our next meeting is scheduled for some time in October pending availability of the hall in Springfield.

Marilyn Schmit

ReVuN'Q

We successfully hosted the Trails In dance for Summer Festival in July. We had 50 people in attendance and plenty of food on the goodies table. There were four squares on the floor most of the evening and a good sized round dance circle to make the evening a great time. Thank you to Randy Lewis for being the MC. We had some guest callers and cuers to help him out during the evening and a good-sized split the pot.

We continue to dance on Thursdays with the first Thursday in August being an ice cream dance to celebrate the end of the hot weather. We may talk about future lesson ideas during the 30-minute break as we eat ice cream. Time for some ideas to surface.

The club will sponsor Phase 2 Waltz lessons at 4:00 p.m. at the Salem Square Dance Center. The instructors will be Molly Fairly and Marilyn Schmit.

Marilyn Schmit

September 1 (1st Thu)

Regular Dance

Schedule 7-9:00 p.m.

Salem Square Dance Center, Salem

Cuer: Randy Lewis

September 8 (2nd Thu)

Regular Dance

Schedule 7-9:00 p.m.

Salem Square Dance Center, Salem

Cuer: Randy Lewis

September 11 (2nd Sun)

Phase 2 Waltz Lessons

Easy level phase 2 waltz lessons

Salem Square Dance Center, Salem

Cuer: Molly Fairly/Marilyn Schmit

View Flyer

September 15 (3rd Thu)

Regular Dance

Schedule 7-9:00 p.m.

Salem Square Dance Center, Salem

Cuer: Randy Lewis

September 22 (4th Thu)

Regular Dance

Schedule 7-9:00 p.m.

Salem Square Dance Center, Salem

Cuer: Randy Lewis

September 29 (5th Thu)

Regular Dance

Schedule 7-9:00 p.m.

Salem Square Dance Center, Salem

Cuer: Randy Lewis

Salem Swingin' Stars

Whew, it's been so hot! Thank goodness the hall has air conditioning and fans to keep all the dancers cool while having fun on the dance floor. Our 5th Friday Plus dance on July 29 was hot, hot, hot outside but so cool and comfortable in the hall.

The first Friday dance in August had five squares of dancers and it was much cooler. 😀 We will dance on the third Friday in August as well.

Get the word out, Mainstream Lessons begin on Wednesday, September 14 at 6:30 p.m. with instructor Randy Dibble. Free the first two weeks, $5.00 per dancer per week thereafter.

Mark your calendar for our Annual Corn 'n Cluck dance on September 16.

Thank you to all the dancers for coming out and supporting square dancing with us. See you on the dance floor.

Sheila Machado

September 2 (1st Fri)

Regular Dance

7:00-10:30

Salem Square Dance Center, Salem

Caller: Randy Dibble

Cuer: Randy Lewis

September 16 (3rd Fri)

Regular Dance

7:00-10:30

Salem Square Dance Center, Salem

Caller: Randy Dibble

Cuer: Randy Lewis

September 30 (5th Fri)

Regular Dance

7:00-10:30

Salem Square Dance Center, Salem

Caller: Randy Dibble

Cuer: Randy Lewis

Silver City Squares

We are still dancing!! Friday, September 9 is Ian Craig and Julie Stiers. Saturday, September 24 is K.C. Curtis and Julie Stiers. Mainstream lessons will start on Tuesday, September 20. Contact Karyn Buchheit for more information. 503-873-5241 or buchheitfarmkm@gmail.com

Julia is planning on graduating her waltz class on September 6.

Hopefully, we will be finding out this month what is happening with the Pacific Northwest Teen Square Dance Festival this year. More news to come later.

Petrina Buchheit

September 9 (2nd Fri)

Regular Dance

7:30 PM to 11:00 PM

Waldo Hills Community Club, Silverton

Caller: Ian Craig

Cuer: Julie Stiers

September 24 (4th Sat)

Regular Dance

7:30 PM to 11:00 PM

Waldo Hills Community Club, Silverton

Caller: KC Curtis

Cuer: Julie Stiers

View Flyer

No club news received.

September 2 (1st Fri)

Regular Dance

Dark

September 16 (3rd Fri)

Welcome Back to Dancing!

7:30-10:00

IOOF Hall, Albany

Caller: Bruce Lowther

Cuer: Sandy Harris

View Flyer

Willamette Squares

Willamette Squares next regular dance at the Salem Square Dance Center on the fourth Saturday of the month will be their watermelon dance. Come enjoy cold juicy slices of watermelon and dance to your heart's content. Bruce, our caller and Judy, our cuer are still going on cruises and enjoying their travels. John and Doris are making plans for a trip to Ireland next month. They will be renting a car and seeing the country on their own. Shari will be having surgery on her arm. We wish her a speedy recovery. We hope to see many of you in a square.

Jodee

September 24 (4th Sat)

Regular Dance

7:00 - 9:30

Salem Square Dance Center, Salem

Caller: Bruce Lowther

Cuer: Judy Russell

View Flyer

Portland Area Council -

Link

Saturday - Sept.17th, PAC will host the State Federation meetings (3:00pm), Potluck approx. 5:15pm: and Saturday Dance beginning 7:00pm at Maplewood Grange in Aurora Come meet and dance with your Federation Officers. Find the Flyer on page-front of the OFN.

Betty Chipps

Buzzin Bees

No club news received.

No club news received.

No club news received.

No club news received.

No club news received.

Rogue-Sis-Q Council

No council news received.

September 6 (1st Tue)

Meeting

4:30pm on even numbered months

Round Table Pizza, Medford

September 30 (5th Fri)

5th Friday Dance & Silent Auction

Advanced- 6:30 Pre-rounds 7:30, Mainstream/Plus- 8:00-???

Rogue Valley Square Dance Center, Medford

Caller: Wayne Weaver

Cuer: Bob Dingman

View Flyer

Charlie Brown Squares -

Link

New Classes start Tuesday 9/13/22. We hope to have a good turnout. No dances are scheduled in September due to Labor Day and the Rogue Valley Rendevoux dance weekend. We hope everyone has had a great summer and we look forward to seeing you out dancing soon!

September 3 (1st Sat)

Regular Dance

Dark

September 17 (3rd Sat)

Regular Dance

Dark

Circle-N-Square

No club news received.

September 2 (1st Fri)

Regular Dance

6:30 -9:30

Evergreen Elementary School, Yreka

Caller: Dean Black

Cuer: Elaine Funk

September 9 (2nd Fri)

Regular Dance

6:30 -9:30

Evergreen Elementary School, Yreka

Caller: Dean Black

Cuer: Elaine Funk

September 16 (3rd Fri)

Regular Dance

6:30 -9:30

Evergreen Elementary School, Yreka

Caller: Dean Black

Cuer: Elaine Funk

September 23 (4th Fri)

Regular Dance

6:30 -9:30

Evergreen Elementary School, Yreka

Caller: Dean Black

Cuer: Elaine Funk

September 30 (5th Fri)

Regular Dance

6:30 -9:30

Evergreen Elementary School, Yreka

Caller: Dean Black

Cuer: Elaine Funk

No club news received.

September 10 (2nd Sat)

Regular Dance

Pre-rounds 7:00, Squares 7:30

Rogue Valley Square Dance Center, Medford

Caller: Phil Ramey

Cuer: Bob Dingman

September 24 (4th Sat)

Regular Dance

Pre-rounds 7:00, Squares 7:30

Rogue Valley Square Dance Center, Medford

Caller: Phil Ramey

Cuer: Bob Dingman

South Coast Council

No council news received.

No club news received.

September 2 (1st Fri)

Battle Rock Weekend

Events all weekend -- check the flyer

Beachcombers Cove, Port Orford

Caller: KC Curtis

Cuer: Dave Cooper

View Flyer

September 3 (1st Sat)

Battle Rock Weekend

Dance in the surf in the morning

Beachcombers Cove, Port Orford

Caller: KC Curtis

Cuer: Dave Cooper

View Flyer

September 24 (4th Sat)

Regular Dance

3 PM to 6 PM

Beachcombers Cove, Port Orford

Caller: Dave Cooper

Cuer: Cathy Houston

Crook County Mavericks

No club news received.

September 9 (2nd Fri)

Regular Dance

7:00-9:00 PM Phase II-IV

Beachcombers Cove, Port Orford

Cuer: Dave Cooper

No club news received.

September 3 (1st Sat)

Regular Dance

7:00-10:00

Shop, Coos Bay

Caller: Sherm Welch

Cuer: Cathy Houston

September 17 (3rd Sat)

Regular Dance

7:00-10:00

Shop, Coos Bay

Caller: Sherm Welch

Cuer: Cathy Houston

No club news received.

September 10 (2nd Sat)

Regular Dance

7:00 PM

Coquille Community Building, Coquille

Caller: Bob Houston

Cuer: Denise Harris

Tualatin Valley Council -

Link

The July TVC meeting was officiated by Ursula Kuhn, TVC President, and held via Zoom. There were 23 attendees, including George Hermann, president of the Oregon Federation.

Dale Brabham of the TriSquares was voted to succeed Josie Rosenbury as the State Delegate in September. The TVC is once again providing clubs financial help to promote lessons. Member clubs may request reimbursement of up to $200 for costs incurred related to the advertising of square dance lessons.

It was decided at this meeting that the appointed position of Sunshine Chair would not continue since no one had stepped up to be our Sunshine person. The duties of the TVC's Sunshine person will be lowered to the club level, which means that the clubs will be sending cards to their members who are not doing well.

The Council highly recommends that all TVC dancers attend the anniversary dances held by other member clubs. This month we have the TriSquares having their anniversary dance at a new (for them) hall, the Kinton Grange on September 23rd. Next month on October 1st, the Sunset Promenaders Anniversary Dance will be at the Hillsboro IOOF hall. Although listed in the TVC Directory, the Wavesteppers will NOT be holding an Anniversary Dance on the 25th of September.

Since the OFN is published about the 20th of the month, you still have time to plan on attending the TVC's annual Hahn Barn Dance will be held on the afternoon of Sunday, August 21st at the Hahn Farm near Banks. The Potluck Picnic will be slightly different this year. You need to bring your own meal and perhaps a dessert to share. It begins at 3 pm near the pond below the Barn before the dance. Round dancing, cued by Tami Helms begins at 4:30 followed by Darrell Kalmbach calling squares from 5 to 7pm. Mainstream with every third tip plus.

Ferrous Steinka




Umpqua Area Council -

Link

No council news received.

September 14 (2nd Wed)

Meeting

meet monthly

Buckeroo Barn, Roseburg

No club news received.

September 3 (1st Sat)

Regular Dance

PLUS 6:00, Mainstream 6:30 Every 3rd tip PLUS

Buckeroo Barn, Roseburg

Caller: Mark Wheeler

Cuer: Neil Koozer

September 17 (3rd Sat)

Regular Dance

PLUS 6:00, Mainstream 6:30 Every 3rd tip PLUS

Buckeroo Barn, Roseburg

Caller: Mark Wheeler

Cuer: Neil Koozer

No club news received.

September 8 (2nd Thu)

Beginner Rumba Lessons

No dance experience required, leather/suede soles recommende

Buckeroo Barn, Roseburg

Cuer: Neil Koozer/Rod Skinner

View Flyer

September 13 (2nd Tue)

Round Dance Workshop

Ph 3-4

Buckeroo Barn, Roseburg

Cuer: Neil Koozer/Rod Skinner

September 15 (3rd Thu)

Beginner Rumba Lessons

6:30 PM

Buckeroo Barn, Roseburg

September 20 (3rd Tue)

Round Dance Workshop Phase 3-4

6:30 PM

Buckeroo Barn, Roseburg

September 22 (4th Thu)

Beginner Rumba Lessons

6:30 PM

Buckeroo Barn, Roseburg

View Flyer

September 27 (4th Tue)

Round Dance Workshop Phase 3-4

6:30 PM

Buckeroo Barn, Roseburg

September 29 (5th Thu)

Beginner Rumba Lessons

6:30 PM

Buckeroo Barn, Roseburg

View Flyer

No club news received.

September 10 (2nd Sat)

Regular Dance

2nd & 4th Saturday 7-10pm Rounds/Plus Squares

Buckeroo Barn, Roseburg

Caller: Jim Steele

Cuer: Neil Koozer

September 24 (4th Sat)

Regular Dance

Dark