President's Corner
Who wants to be President
President of the Oregon Federation of square and Round Dance Clubs, pretty cool right? Well, it can be if you commit to doing it. You can bang the gavel & call the meeting to order and the best thing yet is that you have the last say.
It goes without saying that the position of president is a leadership role. Providing that leadership relies on several things. Respect by the members of the organization, the willingness to listen to ideas and concepts that do not fit your personal perception of the situation. Then there is facilitating over meetings. Meetings are where changes to the organization are proposed and viewpoints to the proposal are heard. It is the president's job to ensure all viewpoints offered are given the chance to be heard. The president gets to decide when the discussion has covered the viewpoints and then call for the vote. The hard part for the president is that they do not get to express how they feel about the issue, and they typically do not vote on the issue.
The president is there for advice when needed. That advice must be balanced against the Constitution, Bylaws, and Policies and Procedures that all the members have agreed to abide by. They need to ensure that the elected officials and Committees have what they need to accomplish the tasks that they have been given.
An effective president must use delegation when needed to help resolve the issues that come before the Executive committee. The trick to delegation is identifying a person with the skills and ability to provide a solution to the issue at hand. Fortunately, I have been blessed with several individuals that have offered their assistance.
Now for the fun part. The president gets to bestow awards and praise folks who have given a portion of their time to support and improve our dance community. This is what makes it worthwhile.
Sharing is caring,
Tim Keck
President
Editor's Note
I'm looking forward to seeing many of you at Mid-Winter Festival. The weather is going to be great.
---
Click here to find out how to get your information into the OFN, including dances, lessons, photos, flyers, advertisements, and caller/cuer information.
---
We have set up an email mailing list to notify people when a new edition of the online OFN is available, and for other important news about the OFN. To subscribe to this mailing list, just fill out this information:
Federation Events
Federation Meetings
The next Federation meeting will be hosted by the Emerald Empire Council, held at the Linn County Fairgrounds on January 29, 2023, in conjunction with Mid-Winter Festival.
---
Youth Scholarships
The application form for the Federation scholarships for seniors in high school and freshmen in college has been updated for 2023. Be sure to remind your young people to apply: https://squaredance.gen.or.us/ScholarshipApp .
---
Mid-Winter
Mid-Winter Festival 2023 is scheduled for January 27-29, 2023, at the Linn County Fairgrounds in Albany.
Welcome to January, the first month of 2023. We as a committee are all excited and preparing for your arrival to our festival in just a few short weeks. If you happen to read this before the 31st of December, please make your hotel reservation. Square dancer discounts at the hotels stop on the 1st of January so make sure you have your room. Another important date is the 8th. It's the last day to get the preregistration price tag, so save yourself some money and get those registrations in.
Now that we got all the important announcements out of the way let me introduce you to our two fabulous cuers that round out our amazing entertainment panel for you. First we have our round dance cuers, Deb and Tim Vogt from Las Vegas NV. They have been cuing for over 37 years. They delight the round dancers with lots of amazing dances from easy 2 all the way up to level 5/6. They primarily cue here in the west but are well traveled and if you get a chance to watch them at the showcase, they dance together amazingly! Next we have our clogging cuer Shane Gruber from Detroit, MI. Shane has been keeping cloggers on their toes for over 30 years. He has cued and performed across the entire world. He is truly a sight to behold and if you get a chance you should head over to the Comfort Suites hotel and watch him dance and teach.
We hope that you can come join us at what is shaping up to be a magical and enchanting festival. See you all in a square soon.
---
Summer Festival
There is currently no Summer Festival planned for 2023.
---
Federation Links
---
Other National Events
The latest news about the National Square Dance Conventions® is located in the National Squares magazine, produced by the NEC. You can find the latest issue here: (http://nsdcnec.com/flipdocs/NatSqOnline/Natsq1120/index.html)
The 72nd National Square Dance Convention® will be held in Mobile, Alabama, June 21-24, 2023.
The 2023 USAWest Convention will be held in Albuquerque, New Mexico, July 26-29, 2023.
The 73rd National Square Dance Convention® will be held in Milwaukee, Wisconsin, June 26-29, 2024.
The 74th National Square Dance Convention® will be held in Shreveport, Louisiana, June 25-28, 2025.
---
Other National Links
---
Corporation Renewal Status
All clubs in the Oregon Federation are required to maintain their status as non-profit corporations with the State of Oregon. The Secretary of State's office mails out a renewal notice about a month before your registration expires every year. The following clubs expire this month:
February 1 -- Emerald Empire Council
February 7 -- Klamath Country Squares
February 26 -- Tualatin Valley Council

When & Where
Download a complete list of the Federation club dances this month, all sorted by date and city.
Everything in the When & Where is extracted from the state directory information. If you find that your club information is wrong, you can fix that by going to the directory information area and fixing your data.
Obituaries
Cascade Callers & Cuers Assoc
We call and cue the Fifth Saturdays during the year. Our next dances will be April 29, July 29, and September 30. Our dances start with pre-rounds at 7:00 and mainstream from 7:30 - 9:30.
The Buccaneers club with Roger Putzler and Christina Corelli had five squares for New Years Eve. The admission for this dance as rolled back to the 1980's at $2.50 per dancer! The dance ended at 10:00 so dancers had a chance to celebrate midnight with family and friends and get home before the traffic hit after midnight. It was a fun dance, and we rang in the new year for New York and Chicago where Roger was born and raised. A toast with sparking cider at the end is now a tradition.
Roger Putzler is teaching mainstream and plus on Tuesday nights. There are about five squares for beginners which is a positive note these days. Christina's new husband, Jake Westra, is learning mainstream from Roger and enjoying it. A number of new dancers have ribbons for Mid-Winter!
Our president, Pat Cox from the coast provide equipment for our Fifth Saturday dances and is always early to set up Thanks Pat! You and Cherie are appreciated!
Christina Corelli
Secretary and Cuer
CCCA
We continue to dance in Hall B at the Emerald Square Dance Center at 20th and Yolanda in Springfield. Hall B is located at the back of the building. Please use the double doors to enter. We dance normally two Sunday afternoons a month from 1:30 to 3:30PM, often the 2nd and 4th Sundays depending on what is happening. Since everyone lives busy lives there are times when we cannot dance because there are not enough people available for even one square so be sure to call Fred Beisse at 458-221-3564 to make sure we are dancing on any given Sunday. You can check our website at cas-sd.yolasite.com to see our tentative schedule. We hope to be dancing on Feb. 12 and 26th. If you are in the area, we would love for you to join us. The dress code is casual always. Coffee and tea are available and sometimes delicious snacks.
We dance to recorded music, but there are times when Kris Jensen comes in from New Mexico and will stop by and call for us. If Mid-Winter isn't over by the time you get to read this, please come join in the fun! Hope to see you on the dance floor at the Emerald Square Dance Center.
Gaynor Hintz
February 12 (2nd Sun)
no theme casual dress
1:30 to 3:30PM
February 26 (4th Sun)
no theme; casual dress
1:30 to 3:30PM
Misty Valley Cloggers
No club news received.
In December our club along with our sister club, the Whirl-A-Ways sponsored a Christmas dance which I already reported had five squares in attendance with many gathering before the dance to partake in a Christmas potluck. We enjoyed the camaraderie and good food and later the dancing to Mike Kious' calling. It was so nice to see a square of dancers from Roseburg join us that evening.
Our next dance will be held Feb. 24, the 4th Friday, and will be our 59th Birthday Dance. Come join Jim Hattrick, Jackie Gale and us to celebrate this occasion by dancing and kicking up our heels. Dances start at 7:30 with Plus, 7:45 15 minutes of pre-rounds and from 8 to 10 mainstream. We do not take a formal break at this time though that may change. We continue to dance at the Emerald Square Dance Center at 2095 Yolanda St. in Springfield. If you have any questions, please contact our president Larry Reetz, (541) 913-6238, or Gaynor Hintz, (541) 741-4149.
Gaynor Hintz
February 24 (4th Fri)
59th Birthday Dance
7:30 pm PRE-ROUNDS, 7:45 pLUS, 8-10 Mainstream with round da
Caller: Jim Hattrick
Cuer: Jackie Gale
Spin Cycle Squares -
Link
We had a dance January 1 and the 29th. The three in between were dark. The hall is also rented to kids' dance groups and the Eugene Opera. All wonderful musical events, and we don't mind giving up a few weeks once a year for them. The hall makes quite a bit of money which helps with expenses.
We are looking forward to our regular Sunday dances from 4 - 6 each Sunday with our caller, Tim Matteson. Everyone is welcome. All our dances are casual. Tim calls all levels and helps beginners out too by giving them floor time to figure out their latest moves.
So, please join us. It would be wise to call our president, David Lajoie at 541-520-7311 to make sure we are dancing. We shouldn't have any dark Sundays starting in February, but one never knows. We dance in Hall A at the Emerald Dance Center, 2095 Yolanda in Springfield. The floor is cushioned, and we have heat in the winter and air conditioning in the summer.
Christina Corelli
Member-at-Large
Spin Cycle Squares
Sweet Home Squarenaders
No club news received.
We had a shared dance with the Single Trees in December. Single Trees were in charge of a potluck before the dance. Mike Kious and Christina Corelli called and cued many Christmas favorites. We were thrilled to have Mike back calling. He was still very sore and used the round dance time in between tips to lie on his back and get ready for his next tip. The dancers thoroughly enjoyed the squares and rounds! We had just this one dance in December.
We had a New Dancer Pajama Dance January 14. Oh my, onesies, flannels, ruffles, lace, you name it! Mike called a great dance, and Roger's new dancers had a real treat dancing at a real dance and having the time of their lives! Christina's husband, Jake, wore a brand new onesie Christina found at Goodwill! She wasn't even looking for one, but there it was!
Ron Gates, our vice-president, is in charge when our president Todd Jensen, is south. Thanks Ron!
Please join us the second and third Saturday at the Emerald Dance Center. 7:00 - Plus and mainstream with rounds starting aft 7:30.
We'll have our club meeting via Zoom January 19. Several of us our headed to Albany for Mid-Winter. Hope to see you all there!
Christina Corelli
Cuer
Whirl-A-Ways
February 11 (2nd Sat)
Regular Dance
7:00 plus 7:30-10:00 ms
Emerald Square Dance Center, Springfield
Caller: Mike Kious
Cuer: Christina Corelli
February 18 (3rd Sat)
Regular Dance
7:00 plus 7:30-10:00 ms
Emerald Square Dance Center, Springfield
Caller: Mike Kious
Cuer: Christina Corelli
No club news received.
Braids & Braves
Our December dance was our New Dancers Dance and we had four to five squares on the floor all evening. There were also clothes and accessories available for sale. The club is looking forward to Mid-Winter.
Norma
February 1 (1st Wed)
Cupid Dance
8:00 AM
McMinnville Grange, McMinnville
View Flyer
February 5 (1st Sun)
Plus Lessons
6 PM to 7:30 PM
McMinnville Grange, McMinnville
Caller: Leonard Snodgrass
View Flyer
Capitol Callers & Cuers Assoc -
Link
No club news received.
Cherry City Cloggers -
Link
Cherry City Cloggers are excited about the New Year and the addition of several beginning cloggers to our membership list. We graduated 15 new cloggers from the beginner class and most of those returned as members in January. 
We are also looking forward to the Mid-Winter dance. So far we have 11 members registered to attend and at least half of them are from our beginner class.  It is so exciting to see our dance floor full once again after our membership waned over the past two or three years. We still have room for more however, and we look forward to continued growth.
Georganne Pfnister
We are hoping to graduate a class of new dancers soon! On the second Saturday of February, we are dark for the Sweet Home birthday dance. Our own Birthday Dance will be Saturday, Feb. 25, with Roger Putzler calling and Jackie Gale cueing.
Our annual Coast Trip dances are March 10 and 11 at Gleneden Beach Community Club, and we welcome any dancers who would like to join in! Signups will start soon.
Karen
Golden Squares
No club news received.
Independence Wagon Wheelers -
Link
The club had a successful dance on the second Saturday in December with over five squares of dancers. It was our new dancer dance, Christmas dance and silent auction. We brought in twenty-nine tins of decaf coffee and $555 for Windsor House, our club charity. It is a set of five houses that house brain damaged residents. The coffee is so they can have more than one cup a day and the money will be used for movies, fun excursions, and the like for the residents.
The club will be graduating a group of people in mid-January in time to dance for Mid-Winter festivities. A few of them have attended enough new dancer dances to earn a New Dancer Ambassador bar for their badge. Congrats to them for their efforts.
Marilyn
Lebanon Square Circlers -
Link
No club news received.
February 4 (1st Sat)
Birthday Dance
7:30 PM
IOOF Hall, Lebanon
Caller: Charlotte Jeskey
Cuer: Jackie Gale
View Flyer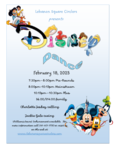 February 18 (3rd Sat)
Disney Night Dance
7:30 PM
IOOF Hall, Lebanon
Caller: Charlotte Jeskey
Cuer: Jackie Gale
View Flyer
No club news received.
ReVuN'Q
The club hosted a successful New Year's Eve dance with nine and one-half couples in attendance in addition to the two cuers and their respective partners. Lots of food was available and a good variety too! We had three sessions with a break in between each for sit down time to eat and converse with the others there. We had pictures taken and individuals got some taken also. Look for the group picture which will be in this issue elsewhere. Sparkling cider was present at midnight with a thank you circle to say Happy New Year.
The club in December only had three sessions. A fourth one was cancelled due to ice and dangerous driving for those who drive a distance to come to class and we cancelled the fifth one since it was two days before New Year's Eve. Tango is just getting started so we are getting back on track in January. We have about four couples who are returning to dancing or moving up from an easy level of dancing or refreshing their knowledge of tango from a previous class.
Marilyn
Salem Swingin' Stars
December was a highly active month for the Salem Swingin' Stars. December 2 was our New Dancer Dance and Resale Clothing Sale. We had six squares on the floor and at least two more on the sidelines. December 16 was our Christmas Dance. Lots of Red, Green, Gold, and Silver in attendance. December 30 was our New Year's Eve Eve and 5th Friday Dance where we all dressed up in Sparkle and Glitz. We made a toast to the new year a day early. Loads of fun.
January 11 was the Graduation of our Mainstream class with a potluck and celebration, and we are looking forward to Mid-Winter Festival 2023 at the end of the month.
Our next round of beginner Mainstream lessons will begin on Wednesday February 8. We have had lots of phone calls and inquiries already. See you on the dance floor.
Sheila
Silver City Squares
We had a great turnout for our New Year's Eve Dance/Youth Overnight Party. We had six-plus squares in attendance for the dance part. Some of those who stayed for the party did leave early, so we fed breakfast to about seventeen people.
Update on Pacific Northwest Teen Square Dance Festival: We have one plus square, four mainstream squares, seven callers, four cuers, and several round couples who are still getting sorted out. We just received the dances that the round couples will be memorizing. There is a waltz and a 2-step for the Novice and Basic Level dancers, and a jive and a foxtrot for the Intermediate Level dancers (we have two couples at that level).
Please watch for our flyer for our Youth Fundraising dance which will be on February 25. We will be drawing the winners for our cash raffle and for our quilt raffle. Catch a youth at Mid-Winter to buy raffle tickets.
Petrina Buchheit
February 10 (2nd Fri)
Club Anniversary
7:30 PM
Waldo Hills Community Club, Silverton
Caller: Ian Craig
Cuer: Julie Stiers
February 25 (4th Sat)
Youth Fundraiser
Youth fundraiser dance, silent auction/basket raffle, cash r
Waldo Hills Community Club, Silverton
Caller: Ian Craig
Cuer: Julie Stiers
View Flyer
It is a New Year, and our club is looking forward to more dancers attending our dances this year. It was slow in 2022 but hopefully more people are ready to get back to this great activity.
We are a Mainstream Club, and we dance the first and third Fridays of the month. On the first Friday at 7:30, we dance pre-plus or line dance teach and on the third Friday at 7:30, we dance plus. Our dance location is at the IOOF hall on 5th street in Albany. Please come and join us.
Sandy
February 3 (1st Fri)
Dance
Mainstream
IOOF Hall, Albany
Caller: Sandy Harris
Cuer: Sandy Harris
View Flyer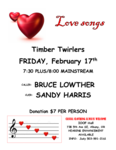 February 17 (3rd Fri)
Dance
Dance
IOOF Hall, Albany
Caller: Bruce Lowther
Cuer: Sandy Harris
View Flyer
Willamette Squares
No club news received.