President's Corner
Let's have a meeting.
Meetings, meetings, meetings; every time we turn around someone is holding a meeting. All we want to do is dance and socialize with our friends. Why do we need to have so many meetings? The short answer is that since we are non-profit organizations, the state laws say we must; however, we are only required to have one per year.
Meetings are an excellent way for our clubs to keep track of our members' wishes and needs for the successful operation of our clubs. We use our meetings to ensure that the bylaws we have established are in fact being followed and are relevant to our current situation. When deciding issues, he who talks the longest or shouts the loudest wins, right? How can we discuss something without getting into a shouting match? What about the quiet people? They sit there and don't say anything. Should their opinions be heard?
Every club has established a process (usually in the bylaws) that is intended to ensure that the meetings are civil and fair respecting the intentions of the club members who came before us and members who will follow us. We are bound to respect the rule of the majority while protecting the rights of the minority and absent members. In many cases, that process is Robert's Rules of Order.
Who is this Robert & why do we need to follow his rules? Briefly, in 1876 Henry Martin Robert wrote a book pertaining to parliamentary procedure to bring a sense of order to meetings. Robert's Rules give us general procedural guidelines. It also recognizes that bylaws always take precedent. Robert's Rules are to be used as tools to guide the process of meetings, never as weapons to manipulate meetings. I believe that clubs do not always need to use Robert's Rules. They can choose an informal setting if it works for them; they should though; agree to use something. Doing that establishes a setting that members can rely on to ensure the club business is taken care of fairly.
An important part of meetings is the recording of the minutes. This seems to be a dull & tedious exercise; however, it does have its value. The minutes are an excellent way to keep track of club decisions (sometimes important ones). I personally have found significant decisions that were recorded in the minutes were never implemented, and then brought up again for the same decision again. The minutes also keep track of the members who have come before us.
So, meetings, sometimes dull & boring, are really necessary to keep our clubs alive & healthy.
Sharing is caring,
Tim Keck
President
Editor's Note
The results of the elections for Federation office are shown in the Federation section below. A big thanks to all of these folks who are giving of their time to keep things running smoothly.
Take note of the list of festivals and dance weekends in the articles below. Lots of opportunities for dancing.
---
Click here to find out how to get your information into the OFN, including dances, lessons, photos, flyers, advertisements, and caller/cuer information.
---
We have set up an email mailing list to notify people when a new edition of the online OFN is available, and for other important news about the OFN. To subscribe to this mailing list, just fill out this information:
Federation Events
Federation Meetings
At the Federation meeting on May 7 in Roseburg, the results of our officer elections were announced:
President, Karyn Buchheit, MWA
1st Vice President, Patrick Cox, SCC
2nd Vice President, Julia Buchheit, MWA
Secretary, Lorri McIntosh, RSQ
Treasurer, Marilyn Schmit, MWA
Membership, Sue Harrel, PAC
The next Federation meeting will be hosted by the Re-Vu-N-Q club, and will be held at the Salem Square Dance Center on July 16, 2023.
---
Summer Festival
There is currently no Summer Festival planned for 2023. Re-Vu-N-Q is hosting a "celebratory" dance on July 15 in association with the state meeting; see their flyer for details.
---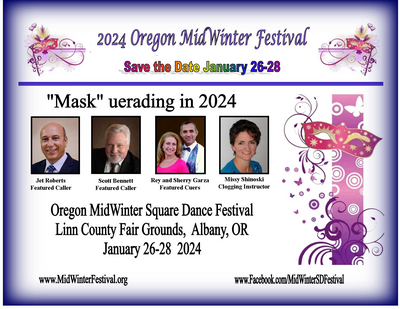 Mid-Winter
Mid-Winter Festival 2024 is scheduled for January 26-28, 2024, at the Linn County Fairgrounds in Albany.
---
Federation Links
---
Other National Events
The latest news about the National Square Dance Conventions® is located in the National Squares magazine, produced by the NEC. You can find the latest issue here: (http://nsdcnec.com/flipdocs/NatSqOnline/Natsq1120/index.html)
The 72nd National Square Dance Convention® will be held in Mobile, Alabama, June 21-24, 2023.
The 2023 USAWest Convention will be held in Albuquerque, New Mexico, July 26-29, 2023.
The 73rd National Square Dance Convention® will be held in Milwaukee, Wisconsin, June 26-29, 2024.
The 74th National Square Dance Convention® will be held in Shreveport, Louisiana, June 25-28, 2025.
---
Other National Links
---
Corporation Renewal Status
All clubs in the Oregon Federation are required to maintain their status as non-profit corporations with the State of Oregon. The Secretary of State's office mails out a renewal notice about a month before your registration expires every year. The following clubs expire this month:
June 10 -- Spin Cycle Squares
June 15 -- Cascade Callers & Cuers Assoc
June 19 -- Hayshakers

When & Where
Download a complete list of the Federation club dances this month, all sorted by date and city.
Everything in the When & Where is extracted from the state directory information. If you find that your club information is wrong, you can fix that by going to the directory information area and fixing your data.
Letters and Articles
Click on the title to see the article.
Mid-Winter Update

Thank you everyone for all of your support! In 2023, we had an amazing 707 dancers at the festival in January. We would love to beat that for 2024. To get you all excited, we have some amazing talent coming to perform for you. The featured callers are Jet Roberts and Scott Bennett. The featured cuer is Rey and Sherry Garza. The clogging cuer is Missy Shinoski. We are looking forward to hearing all of these fantastic voices. Hotels are open now for reservations, so book early for the amazing "square dancer" discount. Come join us January 26-28, 2024, at the Linn county fairgrounds. We are looking forward to welcoming you to a 'mask'uerading great time!

Dancing around Oregon

In addition to all of the regular dances that are being held in Oregon and Washington this year, there are several 2-4 day dance festivals that OFSRDC clubs or councils are planning. Please consider attending some of these festivals during your travels this year. This is a list of the festivals through Pear Blossom next year. Festival flyers with registration, housing, and other information are in the Special Event section of this month's OFN.

Kathy Roberts
Publicity & Education

From Thomas Buchheit

Dear Oregon Square and Round Dancers,

It is with mixed emotions to inform everyone that I will not be found at your next square dance for the next two years. Back in January of this year, I received notification that I was invited to be a volunteer of United States Peace Corps. As of June 3rd, I will be on my way to Washington, DC for orientation and swearing-in and leaving to serve in Liberia. There will be questions from many of you, thus listed are some of the most frequent questions I have received.

What do you in the Peace Corps? To begin with, the Peace Corps was founded in the 1960s under President Kennedy. The purpose of the Peace Corps is to promote peace and friendship amongst the different cultures and countries of the world with the United States. This is solely a U.S. program and for volunteers to go to a certain country, they have to be invited by said country.

What made me want to do this? This was something I started considering while in college as it was an opportunity for me to travel the world and see places I would not have had a chance to see otherwise. In the end, I applied to help others and be a mentor for someone who needs it.

Will I be able to come back and visit or have family come visit you? The answer is yes. I can come back to the U.S. to visit family and friends. During the first six months that I am in Liberia, there is a no travel restriction on volunteers as this is when the brunt of the training takes place and also where I establish myself in the community I will be staying in. However, would I want to come back to visit when I am halfway across the world? I might decide to see that half of the world instead. As for others coming to visit me, this is a possibility, but it is an expensive one.

Where is Liberia? Is it safe there? Liberia is located on the west coast of Africa. Right now, Liberia is safe. There are risks while over, with the most common crime being theft. However, the Peace Corps takes the safety of their volunteers very seriously and part of the training is how to mitigate any potential dangers. If something should arise that is out of their control, i.e., the case of natural disasters such as hurricanes, they will transport the volunteer out and to safety.

Did I choose Liberia or was I assigned randomly? Yes and no. During the application process, there are three options for choosing a country to serve in: specifically stating a particular country you want to serve in, choosing to serve where is best fit for you, or a combination of both. I chose the third option, stating that I will serve where I will be best suited for, but I would like to go this country. I did not get the one I would liked to have gone to, but I feel like this will suited me better.

What will be doing over there? I will be working as a Science Lab Trainer and Coteacher. Basically, I will be in a lab and classroom setting teaching sciences.

Will I be paid? This is a volunteer position, but there is a stipend pay. This stipend is to cover all of my expenses while in Liberia: living arranges, food, utilities, transportation, everything. I will have to budget and provide my expenditures, but Peace Corps will cover everything.

I will be sending written updates to family while I am away and I will be posting on my Facebook about my travels and adventures. I will miss everyone and I will see you in a square some time in the future.

Best,
Thomas Buchheit
Silver City Squares

Obituaries

James Michael Hattrick


New Dancer Jamborees




Special Dances




All the Flyers

Click a thumbnail to download the flyer.

Advertisers

Please support our advertisers, since they help support the magazine. Click a thumbnail to see the full advertisement.

Pictures

Click a thumbnail to see the full-sized picture.

Councils & Clubs




Blue Mountains Council

No council news received.

LaGrande Star Promenaders

No club news received.

June 22 (4th Thu)

Regular Dance

Not holding regularly scheduled dances

Fort Union Grange, Island City

Cuer: Guest Cuers

Muddy Frogs

No club news received.

June 18 (3rd Sun)

Regular Dance

2 to 4 p.m.

Milton-Freewater Comm Bldg, Milton-Freewater

Caller: Guests

Cuer: Guests

Central Oregon Council -

Link

No council news received.

High Desert Dancers -

Link

No club news received.

June 3 (1st Sat)

Regular Dance

7:00-9:30 pm squares/alternate with rounds

Pine Forest Grange, Bend

June 9 (2nd Fri)

Regular Dance

7:00-9:30 pm squares/alternate with rounds

Pine Forest Grange, Bend

June 17 (3rd Sat)

Regular Dance

7:00-9:30 pm squares/alternate with rounds

Pine Forest Grange, Bend

June 23 (4th Fri)

Regular Dance

7:00-9:30 pm squares/alternate with rounds

Pine Forest Grange, Bend

Kountry Rhythm Rockin Outlaws -

Link

No club news received.

June 4 (1st Sun)

Regular Dance

3:00 - 6:30pm Every Sun / 6:00-7:30pm Every Wed

Pleasant Ridge Community Hall, Redmond

Caller: Jim Steele

Cuer: Mark McDonald

June 7 (1st Wed)

Regular Dance

3:00 - 6:30pm Every Sun / 6:00-7:30pm Every Wed

Pleasant Ridge Community Hall, Redmond

Caller: Jim Steele

Cuer: Mark McDonald

June 11 (2nd Sun)

Regular Dance

3:00 - 6:30pm Every Sun / 6:00-7:30pm Every Wed

Pleasant Ridge Community Hall, Redmond

Caller: Jim Steele

Cuer: Mark McDonald

June 14 (2nd Wed)

Regular Dance

3:00 - 6:30pm Every Sun / 6:00-7:30pm Every Wed

Pleasant Ridge Community Hall, Redmond

Caller: Jim Steele

Cuer: Mark McDonald

June 18 (3rd Sun)

Regular Dance

3:00 - 6:30pm Every Sun / 6:00-7:30pm Every Wed

Pleasant Ridge Community Hall, Redmond

Caller: Jim Steele

Cuer: Mark McDonald

June 21 (3rd Wed)

Regular Dance

3:00 - 6:30pm Every Sun / 6:00-7:30pm Every Wed

Pleasant Ridge Community Hall, Redmond

Caller: Jim Steele

Cuer: Mark McDonald

June 25 (4th Sun)

Regular Dance

3:00 - 6:30pm Every Sun / 6:00-7:30pm Every Wed

Pleasant Ridge Community Hall, Redmond

Caller: Jim Steele

Cuer: Mark McDonald

June 28 (4th Wed)

Regular Dance

3:00 - 6:30pm Every Sun / 6:00-7:30pm Every Wed

Pleasant Ridge Community Hall, Redmond

Caller: Jim Steele

Cuer: Mark McDonald

No club news received.

June 2 (1st Fri)

Regular Dance

7:00 PM

Redmond Grange, Redmond

Caller: Guest Callers

Cuer: Guest Cuers

June 16 (3rd Fri)

Regular Dance

7:00 PM

Redmond Grange, Redmond

Caller: Guest Callers

Cuer: Guest Cuers

Sagebrush Shufflers -

Link

No club news received.

June 10 (2nd Sat)

Regular Dance

6:30-9:00 PM

Ochoco School Crossing Gym, Prineville

Caller: Guest callers

Cuer: Guest cuers

June 24 (4th Sat)

Regular Dance

6:30-9:00 PM

Ochoco School Crossing Gym, Prineville

Caller: Guest callers

Cuer: Guest cuers

Sundown RidgeRiders -

Link

No club news received.

June 1 (1st Thu)

Regular Dance

6:30 - 9:00pm

Pleasant Ridge Community Hall, Redmond

Cuer: Mark McDonald

June 15 (3rd Thu)

Regular Dance

6:30 - 9:00pm

Pleasant Ridge Community Hall, Redmond

Cuer: Mark McDonald

Emerald Empire Council -

Link

No council news received.

June 5 (1st Mon)

Meeting

every two months-call for details

Emerald Square Dance Center, Springfield

June 12 (2nd Mon)

Meeting

every two months-call for details

Emerald Square Dance Center, Springfield

June 19 (3rd Mon)

Meeting

every two months-call for details

Emerald Square Dance Center, Springfield

June 26 (4th Mon)

Meeting

every two months-call for details

Emerald Square Dance Center, Springfield

Cascade Callers & Cuers Assoc

Our next Fifth Saturday dance​s​ ​are​July 29, and September 30.  Our dances start with pre-rounds at 7:00 and mainstream from 7:30 - 9:30. 

 

Happy calling, cueing and dancing

Christina Corelli - Secretary

As most of you are aware, we dance on the second and fourth Sundays (when we get at least a square) to recorded music (with great callers, I might add) but don't often get a chance to dance to a live caller anymore. We are proud to announce that Kris Jensen from Albuquerque, New Mexico, will be calling for us on Nov. 12 this coming fall. She will be on the West Coast for other calling opportunities and as her brother Kurt is a member of our group, she is coming to call for us too! We are all so pleased. Do mark your calendars and plan on joining us that Sunday. She will probably also call for Spin Cycle Squares from 4 to 6 Nov. 12 so mainstream and plus dancers will get a chance to dance to her fine calling.

In the meantime, please consult our website at cas-sd.yolasite.com to see what our monthly schedule is going to be and if you are in the area, call one of the officers to make sure we are dancing that particular Sunday in Hall B at the Emerald Square Dance Center. We would love to have you come dance with us.

Gaynor Hintz

Club Reporter

June 4 (1st Sun)

Regular Dance

Irregular, please see website link

Emerald Square Dance Center, Springfield

June 11 (2nd Sun)

Regular Dance

Irregular, please see website link

Emerald Square Dance Center, Springfield

June 18 (3rd Sun)

Regular Dance

Irregular, please see website link

Emerald Square Dance Center, Springfield

June 25 (4th Sun)

Regular Dance

Irregular, please see website link

Emerald Square Dance Center, Springfield

Misty Valley Cloggers

No club news received.

June 16 (3rd Fri)

Regular Dance

7:30 - 10:00

Emerald Square Dance Center, Springfield

Cuer: Lauri Weidenhaft

We held our regular 4th Friday dance in April with Darrell Kalmbach, guest calling. His wife Erin was with him and helped out in various squares as needed. Thank you both! We do love his calling. He work shopped some calls when he saw some problems but kept up the pace and flow very nicely. We hope to have him back soon.

The theme of the April dance was Reigning Cats and Dogs, a benefit for Greenhill Humane Society, brought in over $200 in cash and there were also lots of donations for food and toys. Thank you to all the many big hearts in our square dance community who care for our furry friends.

We were so very saddened to hear the news that Jim Hattrick, our club caller, had passed away in the care facility where he was placed after hospitalization and rehab. Our hearts go out to Judy and their family. He will be greatly missed not only for his calling and cueing but his great sense of humor too. He was one of a kind.

We will be announcing month to month who will be calling our 4th Friday dances as Connie Seamans in charge of hiring lines them up. We will be hiring guest callers from a very short list as more and more callers retire or pass on.

In May we held our joint Fiesta Dance with Taco Bar with our sister club, the Whirl-A-Ways, on the 13th. We are hoping it was a big success.

In June we will have our regular 4th Friday dance with Jackie Gale cueing and caller to be announced.

Keep on dancing,

See you in a square

Gaynor Hintz

Club Reporter

June 23 (4th Fri)

Regular Dance

7:30 pre-rouunds, 7:45 Plus tip; 8-10:00 MS w/3rd tip plus

Emerald Square Dance Center, Springfield

Caller: Jim Hattrick (4th Fridays)

Cuer: Jackie Gale

Spin Cycle Squares -

Link

We are still having our regular Sunday dances from 4 - 6 each week​with our caller, Tim Matteson.  Everyone is welcome.  All our dances are casual.  Tim calls all levels and helps us if there are any figures giving us fits.  

 

Melba Walker surprised and treated us to a full-blown Easter dinner complete with ham, hot veggies, potato salad, rice, rolls, butter and dessert.  She even decorated one full row of tables with bunnies, chicks, candy, you name it. She had a huge cake complete with house (pound cake) atop a lawn of green with flowers.  Wow!  A big Thank You to Melba.

 

We invite you to join us any Sunday from 4 - 6. It might be wise to call David Lajoie at 541-520-7311 to make sure we are dancing.  We shouldn't have any dark Sundays, but one never knows.  We dance in Hall A at the Emerald Dance Center, 2095 Yolanda in Springfield.  The floor is cushioned, and we have heat in the winter and air conditioning in the summer. 

 

Christina Corelli

Member-at-Large

June 4 (1st Sun)

Regular Dance

4:00-6:00 p.m. MS Plus & Advanced Call for dates

Emerald Square Dance Center, Springfield

Caller: Tim Matteson

June 11 (2nd Sun)

Regular Dance

4:00-6:00 p.m. MS Plus & Advanced Call for dates

Emerald Square Dance Center, Springfield

Caller: Tim Matteson

June 18 (3rd Sun)

Regular Dance

4:00-6:00 p.m. MS Plus & Advanced Call for dates

Emerald Square Dance Center, Springfield

Caller: Tim Matteson

June 25 (4th Sun)

Regular Dance

4:00-6:00 p.m. MS Plus & Advanced Call for dates

Emerald Square Dance Center, Springfield

Caller: Tim Matteson

Sweet Home Squarenaders

No club news received.

June 10 (2nd Sat)

Regular Dance

September 10, 2022.- June 17, 2023 6:30- 9:00pm

Oak Heights School, Sweet Home

Caller: Jim Voll

Cuer: Jackie Gale

June 24 (4th Sat)

Regular Dance

September 10, 2022.- June 17, 2023 6:30- 9:00pm

Oak Heights School, Sweet Home

Caller: Jim Voll

Cuer: Jackie Gale

Most of the time we dance the second and third Saturdays every month.  We have Plus from 7:00 - 7:30 and then Mainstream with rounds.  Mike Kious, our caller, was able to have a shot in his spine to relieve some of the pain caused by the September accident.  It has helped a lot!  He's still not out of the woods.

 

Speaking of Mike Kious and Camille, they are expecting a baby boy in late August!  Aiden Alan Kious!  Yay!  We are all excited and over the moon as is Mike, Camille and their families!  

 

Our Zola Jones had shoulder surgery and is recovering nicely. Zola and her late husband, Ray, were recipients of the coveted Randall Award for their tireless years of service to our great activity.  Zola continues and is much appreciated!

    

Ron Gates, our Vice-President had successful eye surgery at OHSU up in Portland.  Recovery means a number of weeks without bending over or lifting heavy objects.  We wish him well and for recovery to go quickly.  He's had the other eye done now as well. 

     

Larry Reetz, one of our members,​was hospitalized with kidney stones, pneumonia, blood clots and a blood infection.  He had two trips to the hospital with a one-week stay and then a few days stay the next time. 

    

To get you up to date on Carol, Larry's wife, we just learned that she is now on hospice at home.  Please pray for Larry and his family a​s they weather through this difficult transition.

 

The free community dance in April brought 40 new people into the hall with angels totaling more than seven squares.  Mike had them dancing grand square, square through 4 and many more figures.  It was awesome and amazing.  Everyone had the time of their lives!  A number of the new people had shared the information on their social media.  It's exciting!

     

​In May we only had one dance on the 13​th which ​was our shared dance with Single Trees and ​had​ a taco bar ​at six and dance at seven with a cinco de mayo ​theme​.  Ole! ​  Hope you were able to join us.​

  

Christina Corelli

Secretary and Cuer

June 10 (2nd Sat)

Regular Dance

7:00 plus 7:30-10:00 ms

Emerald Square Dance Center, Springfield

Caller: Mike Kious

Cuer: Christina Corelli

June 17 (3rd Sat)

Pie and Ice Cream Social Dance

7:00 plus 7:30-10:00 ms

Emerald Square Dance Center, Springfield

Caller: Mike Kious

Cuer: Christina Corelli

View Flyer

No club news received.

Interstate Highlanders

No council news received.

Klamath Country Squares

No club news received.

June 6 (1st Tue)

Regular Dance

6:30 p.m.- 09:30 p.m.

Caller: Cece Glidewell

Cuer: Sarge Glidewell

June 13 (2nd Tue)

Regular Dance

6:30 p.m.- 09:30 p.m.

Caller: Cece Glidewell

Cuer: Sarge Glidewell

June 17 (3rd Sat)

Regular Dance

6:30 p.m.- 09:30 p.m.

Caller: Cece Glidewell

Cuer: Sarge Glidewell

June 20 (3rd Tue)

Regular Dance

6:30 p.m.- 09:30 p.m.

Caller: Cece Glidewell

Cuer: Sarge Glidewell

June 27 (4th Tue)

Regular Dance

6:30 p.m.- 09:30 p.m.

Caller: Cece Glidewell

Cuer: Sarge Glidewell

Mid-Willamette Council -

Link

No council news received.

June 19 (3rd Mon)

Meeting

Sept, Nov., Jan., Mar., May

Salem Square Dance Center, Salem

Braids & Braves

No club news received.

June 17 (3rd Sat)

Down on the Farm

7:00 - 9:30PM

McMinnville Grange, McMinnville

Caller: Leonard Snodgrass

Cuer: Sandra Pinion

View Flyer

Capitol Callers & Cuers Assoc -

Link

We held our Spring Fling on April 29 with a small attendance but a fun dance; thirteen dancers and six CCCA members. There were two callers and three cuers. A person from Corvallis Squares won the split the pot and we had lots of food, so no one went hungry. The door prizes were plants, a macramé hanger, and a Mr. Coffee pot.

Marilyn

June 18 (3rd Sun)

Regular Dance

Dark

Cherry City Cloggers -

Link

No club news received.

June 6 (1st Tue)

Regular Dance

4:00p - 8:00pm

Salem Square Dance Center, Salem

June 13 (2nd Tue)

Regular Dance

4:00p - 8:00pm

Salem Square Dance Center, Salem

June 20 (3rd Tue)

Regular Dance

4:00p - 8:00pm

Salem Square Dance Center, Salem

June 27 (4th Tue)

Regular Dance

4:00p - 8:00pm

Salem Square Dance Center, Salem

We are saddened to learn of the passing of Jim Hattrick. Our club members have many fond memories of evenings dancing to Jim's calling and cueing. He is a well-loved legend!

Corvallis Squares will have one dance in June before going dark for the summer. June 10 is our Hawaiian Luau dinner and dance, complete with a volcano cake! We are grateful to have gotten onto the dance floor many more times this past dance year. Our new graduates are dancing and doing so well! Wishing you all a wonderful summer!

Karen

June 10 (2nd Sat)

Regular Dance

7:pm pre-rounds; 7:15 Mainstream, every 3rd tip plus

First Congregational Church, Corvallis

Caller: Charlotte Jeskey

Cuer: Judy Russell

View Flyer

June 24 (4th Sat)

Regular Dance

Dark

Golden Squares

No club news received.

June 5 (1st Mon)

Regular Dance

7:00 P. M.

The Estates Auditorium, Woodburn

Caller: Randy Dibble

June 19 (3rd Mon)

Regular Dance

7:00 P. M.

The Estates Auditorium, Woodburn

Caller: Randy Dibble

Independence Wagon Wheelers -

Link

We had guest callers and cuers for the month of May. Our guest callers and cuers for June are Mark Wheeler and Randy Lewis for the first Saturday and Terry Halley and Stephanie Lozano for the second Saturday. Come and enjoy their talents.

We look forward to seeing guests come and support their club callers and cuers.

The last weekend of April saw several dancers attend the annual Koast Krash in Yachats. It was a Hawaiian theme and the pictures showed lots of varieties of costumes. There was a variety of foods, games, beach walking, and shopping in the area.

The club will hold a club meeting in August to vote to select the new club caller and cuer. They will start in September.

Marilyn Schmit

June 3 (1st Sat)

Regular Dance

7:00-10:00PM

Salem Square Dance Center, Salem

Caller: KC Curtis

Cuer: Sherri Clark Milling

View Flyer

June 10 (2nd Sat)

Regular Dance

7:00-10:00PM

Polk County Fairgrounds, Arts & Craft Bl, Rickreall

Caller: Ian Craig

Cuer: Julie Stiers

View Flyer

Lebanon Square Circlers -

Link

No club news received.

June 2 (1st Fri)

Strawberry Festival

7:30 PM

Lebanon Senior Center, Lebanon

Caller: Charlotte Jeskey

Cuer: Jackie Gale

June 3 (1st Sat)

Strawberry Festival

Free Spaghetti Feed and Strawberry Shortcake

Lebanon Senior Center, Lebanon

Caller: Jim Steele

Cuer: Jackie Gale

View Flyer

June 17 (3rd Sat)

Regular Dance

Dark

No club news received.

ReVuN'Q

Since this issue goes to print at the end of May, we will be closing in on the end of Tango. We are just dancing during the summer and working on trouble spots as they come up.

Our club birthday dance will be June15, 47 years, if I remember correctly. Cake and ice cream will be served.

Randy will be gone for a night in July for ICBDA. He and Debbie will be showing a dance while there.

We are also hosting a Celebration of Accomplishment on July 15 honoring Wayne Weaver, Elaine Funk-Gorman, George & Patty Hermann, and Daryl and the late Yvonne Clendenin. The afternoon session is rounds cued by whoever wants to cue and they can cue their favorite music or cue something they have written. The evening session is mainstream and rounds with music by the cuers honored and choreography they have written. Callers will call things they have learned from the callers honored and the honorees will get a spot to tell the dancers what we, the dancers, have meant to them. This is a replacement event for what would have been a Summer Festival weekend. Hopefully, the summer festival will come back next year.

Marilyn

June 1 (1st Thu)

Regular Dance

Schedule 7-9:00 p.m.

Salem Square Dance Center, Salem

Cuer: Randy Lewis

June 8 (2nd Thu)

Regular Dance

Schedule 7-9:00 p.m.

Salem Square Dance Center, Salem

Cuer: Randy Lewis

June 15 (3rd Thu)

47th Birthday Dance

Schedule 7-9:00 p.m.

Salem Square Dance Center, Salem

Cuer: Randy Lewis

View Flyer

June 22 (4th Thu)

Regular Dance

Schedule 7-9:00 p.m.

Salem Square Dance Center, Salem

Cuer: Randy Lewis

June 29 (5th Thu)

Regular Dance

Schedule 7-9:00 p.m.

Salem Square Dance Center, Salem

Cuer: Randy Lewis

Salem Swingin' Stars

April brought our 57th Birthday Dance as well as elections of Board Officers. The Executive Board remains the same with the addition of Richard Smith as Area Delegate. There was delicious cake and ice cream served during the dance.

Our Cinco de Mayo dance had four squares on the floor. Two of our youth dancers and their grandmothers headed up to Auburn, Washington for the Pacific Northwest Teen Square Dance Festival with the thirty-five other teens from Oregon.  A fun time was had by all. Trophies were earned for ALL the dancers, Callers and Cuers. Way to go OREGON!!

Our May 19 Dance had a Special Guest Caller from California - Rob Grigby. Hope you were able to join us.

Our club does not go dark in the summer because our hall is air-conditioned and stays cool even on the hottest days. We have three dances in June, which includes a 5th Friday Plus dance on June 30. Our June 16 dance will have Darrell Kalmbach as our guest caller. Come on in and join the fun.

Sheila

June 2 (1st Fri)

Regular Dance

7:00-10:30

Salem Square Dance Center, Salem

Caller: Randy Dibble

Cuer: Randy Lewis

June 16 (3rd Fri)

Regular Dance

7:00-10:30

Salem Square Dance Center, Salem

Caller: Randy Dibble

Cuer: Randy Lewis

June 30 (5th Fri)

5th Friday Plus Dance

7:00-10:30

Salem Square Dance Center, Salem

Caller: Randy Dibble

Cuer: Randy Lewis

Silver City Squares

We just got back from the Pacific Northwest Teen Square Dance Festival. We had a lot of fun. It was great to be able to see old friends and to make new ones. All of our group did really well, and we brought home a bunch of trophies. Mom will be putting together an article. Pictures and video info will be posted as they become available. Several people took pictures and videos.

We are auditioning cuers and hope to be able to name a new club cuer by the end of June.

We will be holding our regular Friday and Saturday dances throughout the summer. We are also hoping to be able to schedule a club visitation once a month.

Petrina Buchheit

June 9 (2nd Fri)

Regular Dance

7:30 PM to 11:00 PM

Waldo Hills Community Club, Silverton

Caller: Ian Craig

Cuer: Leonard Snodgrass

June 24 (4th Sat)

Regular Dance

7:30 PM to 11:00 PM

Waldo Hills Community Club, Silverton

Caller: Ian Craig

Cuer: Mark McDonald

Albany Timber Twirlers will be dark for the rest of the summer. More information will be available later.

Sandy

June 2 (1st Fri)

Regular Dance

Dark

June 16 (3rd Fri)

Regular Dance

Dark

Willamette Squares

Our club has been enjoying dancing and having numerous visitations from other groups such as Salem Swinging Stars, a representation from Silver City Knights, and the beginners from the class at Center 50+

.

Bruce, our caller, and Judy, our cuer, returned home from their extensive travels only to turn right around to go on another trip. John, our president, attended a family gathering mid-May in Peoria, Illinois where his uncle turned 90. This might prove to be their last organized reunion, what with family members establishing roots in various locations across the country. From there he traveled to Baltimore, MD where family gathered for graduation.

Despite busy lives and itineraries, Willamette Squares continues to make dancing a priority. We hope you do, too, and come to dance with us!

Jodee Howard

June 24 (4th Sat)

Regular Dance

7:00 - 9:30

Salem Square Dance Center, Salem

Caller: Bruce Lowther

Cuer: Judy Russell

View Flyer

Portland Area Council -

Link

The PAC visited the Happy Hoppers anniversary dance on May 6. Daryl Clendenin called and cued, with 8 squares on the floor. What a great evening!

The next PAC anniversary will be for River City Dancers, on June 10, at the Milwaukie Community Club, from 7-10 PM.

The next PAC 5th Friday dance will take place on June 30. This dance will be co-hosted by River City Dancers at the Milwaukie Community Club from 7-10 PM.

Buzzin Bees

No club news received.

No club news received.

No club news received.

Rogue-Sis-Q Council

Our next council dance is June 30th w/Wayne Weaver & Bob Dingman. This will be at the Rogue Valley Square Dance Center in Medford. Look for the flyer in this newsletter.

Happy Dancing!

June 6 (1st Tue)

Meeting

4:30pm on even numbered months

Round Table Pizza, Medford

June 30 (5th Fri)

Council Dance

See flyer

Rogue Valley Square Dance Center, Medford

Caller: Wayne Weaver

Cuer: Bob Dingman

View Flyer

Charlie Brown Squares -

Link

We are looking forward to joining the Star Promenaders in hosting Arizona Bill's 100th birthday celebration. We hope to see you there! Our SSD graduates are workshopping on Tuesdays and we also have the Mainstream & Plus classes happening on Thursdays.

Our next dance will be this Saturday May 20th with Dean Black and Rikki Lobato - reminder that this is a FREE dance and we are asking dancers to bring a baked item for auction. We will also have a donation jar out to help cover our costs.

The following weekend - Memorial Day weekend - is our annual Boatnik Festival! What a great time we will have with the wonderful Joe Saltel and Randy/Marie Preskitt!! Going to be a great time!! Please join us!! June 3rd we will welcome Roger Putzler and Rikki will be cueing the dance. This will be our cancer benefit dance. Roger is always fun!!

We are dark on June 17th as several of are attending/calling/cueing at the WA State Festival and/or going on an Alaskan Cruise w/Lou Mac Records.

We hope to see you soon!

Happy Dancing!!

June 3 (1st Sat)

Dance Sleep Repeat (Cancer Benefit)

See flyer

Josephine County Square Dance Hall, Grants Pass

Caller: Roger Putzler

Cuer: Rikki Lobato

View Flyer

June 17 (3rd Sat)

Dark

Dark

June 28 (4th Wed)

SSD Dance

See Flyer

Josephine County Square Dance Hall, Grants Pass

Caller: Chuck Simpkins

Cuer: N/A

View Flyer

Circle-N-Square

No club news received.

June 2 (1st Fri)

Regular Dance

Dark

June 9 (2nd Fri)

Regular Dance

Dark

June 16 (3rd Fri)

Regular Dance

Dark

June 23 (4th Fri)

Regular Dance

Dark

June 30 (5th Fri)

Regular Dance

Dark

No club news received.

June 10 (2nd Sat)

Regular Dance

Pre-rounds 7:00, Squares 7:30

Rogue Valley Square Dance Center, Medford

Caller: Phil Ramey

June 24 (4th Sat)

Regular Dance

Pre-rounds 7:00, Squares 7:30

Rogue Valley Square Dance Center, Medford

Caller: Phil Ramey

South Coast Council

No council news received.

No club news received.

June 24 (4th Sat)

Regular Dance

3 PM to 6 PM

Beachcombers Cove, Port Orford

Caller: Dave Cooper

Cuer: Cathy Houston

Crook County Mavericks

No club news received.

June 9 (2nd Fri)

Regular Dance

7:00-9:00 PM Phase II-IV

Beachcombers Cove, Port Orford

Cuer: Dave Cooper

No club news received.

June 3 (1st Sat)

Regular Dance

7:00-10:00

Shop, Coos Bay

Caller: Sherm Welch

Cuer: Cathy Houston and Cherie cox

June 17 (3rd Sat)

Regular Dance

7:00-10:00

Shop, Coos Bay

Caller: Sherm Welch

Cuer: Cathy Houston and Cherie cox

No club news received.

June 10 (2nd Sat)

Regular Dance

7:00 PM

Coquille Community Building, Coquille

Caller: Bob Houston

Cuer: Denise Harris

Tualatin Valley Council -

Link

The April TVC meeting presided by TVC President Ursula Kuhn was held via Zoom with 18 attendees. All TVC clubs reported that they were successful in casting their votes for the Federation offices. The previous 'resolved' discussion about the "Dancing Under the Stars" has resurfaced because of venue issues. Currently it is expected that the event will occur, it is just not clear where, when, or who will host the dance.

Once again, the TVC achieved 100% club reporting to the OFN, the only Council in the state to do so.

The TVC continues to look for a new Vice President, Treasurer, and Caller Advisor. Election of Council officers is held at the May 22nd meeting. Nominations must be submitted before then. Those elected take office in June. Please consider running for one of these positions.

The Council encourages all dancers to attend Anniversary dances. It is important to support our dancing community. The Oak Hills Squares will celebrate their 1st Anniversary on June 17th. Their original date was cancelled due to Covid last year. Help this small mainstream club out with a visitation to the Oak Hills Recreation Center, 2400 NW 153rd Ave, Beaverton, OR 97006. Dance is at 7:00 to 9:30 with Mark Wheeler calling and Connie Clark cueing.

Ferrous Steinka




Umpqua Area Council -

Link

No council news received.

June 14 (2nd Wed)

Meeting

meet every other month

Buckeroo Barn, Roseburg

No club news received.

June 3 (1st Sat)

Regular Dance

PLUS 6:00, Mainstream 6:30 Every 3rd tip PLUS

Buckeroo Barn, Roseburg

Caller: Sandy Harris

Cuer: Neil Koozer

June 9 (2nd Fri)

Buckeroo Round-Up

7pm Adv, 8pm Pre-Rounds, 830-10pm MS/3rd tip Plus

Buckeroo Barn, Roseburg

Caller: Eric Henerlau

Cuer: Randy Lewis

View Flyer

June 10 (2nd Sat)

Buckeroo Round-Up: workshops

10-12 Round workshop, 1-3 MS FUNshop, 330-530 MS dance

Buckeroo Barn, Roseburg

Caller: Eric Henerlau FUNshop/Mark Wheeler dance

Cuer: Randy Lewis workshop

View Flyer

June 10 (2nd Sat)

Buckeroo Round-Up

7pm Adv, 8pm Pre-Rounds, 830-10pm MS/3rd tip Plus

Buckeroo Barn, Roseburg

Caller: Eric Henerlau

Cuer: Randy Lewis

View Flyer

June 11 (2nd Sun)

Buckeroo RoundUp Wildlife Safari Benefit

10-12 featuered caller/cuer, 1-3 jamboree callers/cuers

Wildlife Safari, Winston

Caller: Eric Henerlau

Cuer: Randy Lewis

View Flyer

June 11 (2nd Sun)

Wildlife Safari Benefit Dance

Special Fundraiser Dance

Wildlife Safari, Winston

Caller: Eric Henerlau

Cuer: Randy Lewis

View Flyer

June 17 (3rd Sat)

Regular Dance

PLUS 6:00, Mainstream 6:30 Every 3rd tip PLUS

Buckeroo Barn, Roseburg

Caller: Sandy Harris

Cuer: Neil Koozer

No club news received.

June 5 (1st Mon)

Regular Dance

Monday Beg Waltz, Tuesday Intermediate Workshop

Buckeroo Barn, Roseburg

Cuer: Neil Koozer

June 6 (1st Tue)

Regular Dance

Monday Beg Waltz, Tuesday Intermediate Workshop

Buckeroo Barn, Roseburg

Cuer: Neil Koozer

June 12 (2nd Mon)

Regular Dance

Monday Beg Waltz, Tuesday Intermediate Workshop

Buckeroo Barn, Roseburg

Cuer: Neil Koozer

June 13 (2nd Tue)

Regular Dance

Monday Beg Waltz, Tuesday Intermediate Workshop

Buckeroo Barn, Roseburg

Cuer: Neil Koozer

June 19 (3rd Mon)

Regular Dance

Monday Beg Waltz, Tuesday Intermediate Workshop

Buckeroo Barn, Roseburg

Cuer: Neil Koozer

June 20 (3rd Tue)

Regular Dance

Monday Beg Waltz, Tuesday Intermediate Workshop

Buckeroo Barn, Roseburg

Cuer: Neil Koozer

June 26 (4th Mon)

Regular Dance

Monday Beg Waltz, Tuesday Intermediate Workshop

Buckeroo Barn, Roseburg

Cuer: Neil Koozer

June 27 (4th Tue)

Regular Dance

Monday Beg Waltz, Tuesday Intermediate Workshop

Buckeroo Barn, Roseburg

Cuer: Neil Koozer

No club news received.

June 10 (2nd Sat)

Regular Dance

Dark

June 24 (4th Sat)

Regular Dance

Dark