President's Corner
Welcome to fall, the start of the Holiday Season and the start of the New Dancer Dances!
As the new dancer dances start this month, please encourage your club's new dancers to go out and try these. This is a chance for them to meet other new dancers, see that there are other students out there that are at the same level of experience they are at and to start to make new friends at other clubs. Please remember – the square dance world does not end at the door to your own hall. Offer to meet your new dancers at the new dancer dance, offer to pick them up if you have room in your vehicle, offer to caravan with them to help them find their way.
Do you remember when you were a new dancer? Do you remember how scary it could be to go to another club? Do you remember not finding angels from your group at a new dancer dance you tried to go to – there was no one you knew to ask questions of. Take care of your new dancers!!! Encourage them, guide them, answer their questions.
Every club with students – please before the new dances start, sit your students down and talk to the entire group. Go over what to expect at a dance, what you should wear, how to check in at the door, explain what split the pot (50/50) is, explain how announcements/breaks work (and the variations), give approximate length of time for a dance, explain that they may see round dances between square tips (and that they need to respect the cuer and round dancers who need to be able to hear over conversations and need to be able to dance) and anything else you can think of.
Remind the angels that they are needed at the new dancer dances and that have a duty to your club's students to go and be a positive presence. The students/new dancers are watching the angels and trying to figure out the proper etiquette – please model the proper attitude and etiquette.
So, as we go out to lessons and our new dancer dances let us make sure that we Square Up With Everyone -- not just a few friends. Seek out the weaker students/dancers and ask them to dance with you. Make sure that students are not sitting out because angels are dancing. Make sure that we as angels and experienced dancers are having fun and being encouraging – this will help make lessons and dances fun for our newer students and dancers.
Karyn Buchheit
Editor's Note
I'm hearing positive reports from lessons around the state. Silver City squares in Silverton is reporting 11 squares on the floor for lessons. That's good news!
---
Click here to find out how to get your information into the OFN, including dances, lessons, photos, flyers, advertisements, and caller/cuer information.
---
We have set up an email mailing list to notify people when a new edition of the online OFN is available, and for other important news about the OFN. To subscribe to this mailing list, just fill out this information:
Federation Events
Federation Meetings
The next Federation meeting will be hosted by the Emerald Empire, and will be held at the Linn County Fairgrounds in Albany on January 28, 2024, in conjunction with Mid-Winter Festival.
---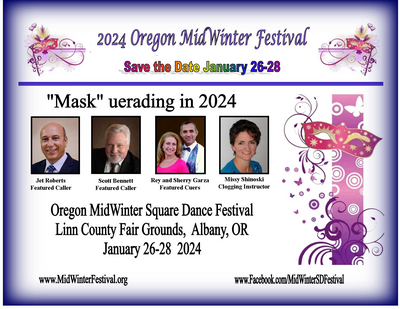 Mid-Winter
Mid-Winter Festival 2024 is scheduled for January 26-28, 2024, at the Linn County Fairgrounds in Albany.
---
Summer Festival
"Sashay to Salem 2024" will be held at Blanchet Catholic School in Salem on July 12 to 14, 2024. There will be four dance halls, Mainstream, Plus, Advanced and Rounds.
---
Federation Links
---
Other National Events
The latest news about the National Square Dance Conventions® is located in the National Squares magazine, produced by the NEC. You can find the latest issue here: (http://nsdcnec.com/flipdocs/NatSqOnline/Natsq1120/index.html)
The 73rd National Square Dance Convention® will be held in Milwaukee, Wisconsin, June 26-29, 2024.
There is no USAWest scheduled for 2024.
The 74th National Square Dance Convention® will be held in Shreveport, Louisiana, June 25-28, 2025.
The 2025 USAWest Convention will be held in Spokane, Washington, July 31 - August 3, 2025.
The 75th National Square Dance Convention® will be held in Waco, Texas, June 24-27, 2026.
---
Other National Links
---
Corporation Renewal Status
All clubs in the Oregon Federation are required to maintain their status as non-profit corporations with the State of Oregon. The Secretary of State's office mails out a renewal notice about a month before your registration expires every year. The following clubs expire this month:
November 5 -- Sweet Home Squarenaders
November 7 -- Crook County Mavericks
November 8 -- Cast A Shadow
November 10 -- LaGrande Star Promenaders
November 14 -- Rosetown Ramblers
November 20 -- Sets In Order
November 25 -- Capitol Callers & Cuers Assoc
November 29 -- Mix N Mingle

When & Where
Download a complete list of the Federation club dances this month, all sorted by date and city.
Everything in the When & Where is extracted from the state directory information. If you find that your club information is wrong, you can fix that by going to the directory information area and fixing your data.
Letters and Articles
Click on the title to see the article.
Mid-Winter Festival Resale Clothing

Is your closet bulging at the seams? Are you hankering to recycle some of your square dance or round dance clothes? Or, have you moved on and are no longer able to join in the festivities?

Well, Mid-Winter Festival is fast approaching. For many of you it provides an opportunity to recycle a few or many of those outfits taking up space in your closets. For others, it is a sad time when you are saying, "I just can't dance anymore", and you want someone else to enjoy those beautiful outfits you have received so much pleasure wearing over the years.

But first let's look closely at some key tips to selling your clothing items at Mid-Winter Festival 2024. Follow closely the online instructions and email your list of items in by January 19, 2024.

Note: If you are having any problems completing the form online, then by all means hand write it and mail it in. We will input it to the computer for you. Please email or call Sheila for assistance. If you snail mail your list, it must be received by January 12, 2024. Please, read the instructions very, very carefully.

Make sure the items are clean and in good repair. Square and Round dance clothing only, please.

Bring your items, listed by categories to simplify the tagging process for you to the consignment tables. Labels will be printed in the order that you have numbered them on the submission form.

If you have sets, keep/place them together. This will help you with the tagging process and may even help them to sell.

Please, be early to consignment. Be sure to check the hours and plan on Thursday afternoon (3:00 pm) or Friday morning (9:00 am) so they will be prominently placed on the racks for the opening sales activity Friday evening. As with so many activities it is getting more and more difficult to get volunteers to help. Resale Clothing is one of those areas that require a large number of volunteers to make it available for all the dancers.

We can no longer accept clothing items at the festival that were not listed for consignment before the input deadline.

We are sorry it has come to this. But we hope you will utilize the online submission process. Or you can hand write it and send it to us. Just print out the input/submission sheet for completion by hand. We want to help you recycle the many beautiful outfits that you all have.

As I said earlier we require a large number of volunteers to assist during consignment and sale hours. We will accept any help, even if for just one (1) hour. So, contact the chair for Resale Clothing – Sheila - and let her know you want to help.

Don't forget to pick up your returns by 10:00 a.m. on Sunday morning.

For assistance contact the following individual -- preferably by email.

Sheila Machado at sheilainsalem@hotmail.com or if you must call my phone at 503-884-0158.

A Letter From a Move

Can anyone tell me why no one calls me anymore? Has everyone forgotten me? Has everyone forgotten what I stand for? Why I exist? Why am I not taught?

I AM YELLOW ROCK!!!

Am I forgotten because people don't want to hug? I was NEVER just the hug. I was ALWAYS a whole lot more!

I was always the welcome to our club. We are glad to see you here. We hope you have fun with our group. I was the one who went around and talked to those who could no longer dance, but came for the social aspect. I was the one who made sure that the shy, the nervous, the uncertain, the solo dancer got on the floor. I was the one who filled out the square so that 7 others could dance.

Teach your club members about me again! Change how you teach me – I don't have to be a full hug. I can be the sideways hug. I can be as simple as a bow and curtsy, I can be a handshake or a fist bump, I can be just a nod and a smile, I can be a "Welcome, we are glad you are here". I am the reminder to include everyone.

I am asking you to please talk about me in your club – what does your club want me to mean? Post a notice about me and what I mean to your club and what to expect when I am called at your club.

Can I please come back? I always enjoyed the dances, the lessons, the talking, the fun. Please don't let me die and be forgotten.

                    Yellow Rock

Obituaries

Louise Slawson

Lessons starting in November and December

Everything in this section is taken from the state directory information. If you find that your class information is wrong, you can fix that by going to the directory information area and picking to the "Lessons" tab.




New Dancer Jamborees




Special Dances




All the Flyers

Click a thumbnail to download the flyer.

Advertisers

Please support our advertisers, since they help support the magazine. Click a thumbnail to see the full advertisement.

Pictures

Click a thumbnail to see the full-sized picture.

Councils & Clubs




Blue Mountains Council

No council news received.

LaGrande Star Promenaders

No club news received.

November 23 (4th Thu)

Regular Dance

Not holding regularly scheduled dances

Fort Union Grange, Island City

Muddy Frogs

No club news received.

November 19 (3rd Sun)

Regular Dance

2 to 4 p.m.

Milton-Freewater Comm Bldg, Milton-Freewater

Caller: Guests

Cuer: Guests

Central Oregon Council -

Link

No council news received.

November 26 (4th Sun)

Meeting

meet every 3 months--time and place vary

High Desert Dancers -

Link

No club news received.

November 4 (1st Sat)

Regular Dance

7:00-9:30 pm squares/alternate with rounds

Pine Forest Grange, Bend

November 10 (2nd Fri)

Regular Dance

7:00-9:30 pm squares/alternate with rounds

Pine Forest Grange, Bend

November 10 (2nd Fri)

Veterans' Celebration

Special dance celebrating our veterans

Pine Forest Grange, Bend

Caller: Jim Steele

Cuer: Mark McDonald

View Flyer

November 18 (3rd Sat)

Regular Dance

7:00-9:30 pm squares/alternate with rounds

Pine Forest Grange, Bend

November 24 (4th Fri)

Regular Dance

7:00-9:30 pm squares/alternate with rounds

Pine Forest Grange, Bend

No club news received.

November 3 (1st Fri)

Regular Dance

7:00 PM

Redmond Grange, Redmond

Caller: Guest Callers

Cuer: Guest Cuers

November 17 (3rd Fri)

Regular Dance

7:00 PM

Redmond Grange, Redmond

Caller: Guest Callers

Cuer: Guest Cuers

Sagebrush Shufflers -

Link

No club news received.

November 11 (2nd Sat)

Regular Dance

6:30-9:00 PM

Ochoco School Crossing Gym, Prineville

Caller: Kippen Parret

Cuer: Guest cuers

November 25 (4th Sat)

Regular Dance

6:30-9:00 PM

Ochoco School Crossing Gym, Prineville

Caller: Kippen Parret

Cuer: Guest cuers

Sundown RidgeRiders -

Link

No club news received.

November 2 (1st Thu)

Regular Dance

6:30 - 9:00pm

Pleasant Ridge Community Hall, Redmond

Cuer: Mark McDonald

November 16 (3rd Thu)

Regular Dance

6:30 - 9:00pm

Pleasant Ridge Community Hall, Redmond

Cuer: Mark McDonald

Emerald Empire Council -

Link

No council news received.

November 6 (1st Mon)

Meeting

every two months-call for details

Emerald Square Dance Center, Springfield

November 13 (2nd Mon)

Meeting

every two months-call for details

Emerald Square Dance Center, Springfield

November 20 (3rd Mon)

Meeting

every two months-call for details

Emerald Square Dance Center, Springfield

November 27 (4th Mon)

Meeting

every two months-call for details

Emerald Square Dance Center, Springfield

Cascade Callers & Cuers Assoc

We had our meeting and dance the end of September.  It was a small dance, but a heck of a lot of fun for everyone.  Our next scheduled dance is supposed to be December 30, but with New Year's Eve the following night we are canceling the CCCA's Fifth Saturday dance.  Therefore, the next scheduled dances are March 30, 2024, June 29, 2024, August 31, 2024 which is also Christina Corelli's birthday!  Our fall of 2024 Fifth Saturday dance is November 30, 2024.  

   

Pat and Cherie Cox come all the way from the south coast to set up and participate.  Thank you two so much!

    

Christina Corelli

Secretary and Cuer / CCCA

We had two dances in September and have already had our first dance in October on the first Sunday rather than the second one due to the Columbus Day holiday weekend. We had our usual square plus in attendance. Charlotte Jeskey called the second dance in September for us in a debut performance calling advanced. We felt she did quite well for a first appearance, and she is scheduled to call again at our only dance in December on the 10th. She has been teaching advanced off and on but doesn't get a chance to just call at dances. It is good for everyone to dance to a live caller and good for her to g et more "mic" time.

We will have one more dance in October on the 22nd, two dances in November and one as I said in December. We are looking forward to the opportunity to dance to a live calle on Nov. 12. This time it will be national caller Kris Jensen from Albuquerque. She is great at assessing the floor and calling at a good pace.

If you are in the area, please come join us at the Emerald Dance Center on 20th and Yolanda in Springfield, OR. We dance from 1:30 TO 3:30 in Hall B (behind the building), have wooden floors and plenty of parking. We just found out that RV parking is permitted overnight with permission from someone in the club where you intend to dance. Just give Fred Beisse a call at 458-221-3564. Also please be sure we will be dancing on any given Sunday afternoon by checking with him. We try to dance the 2nd and 4th Sundays but cannot always do so. Fred always does a count ahead of time and will cancel if a square is not expected. We are down to so few dancers nowadays.

When we don't have a live caller which is most of the time, we dance to recordings by Darrell Lipscomb, Bronc Wise and other national callers who are willing to give permission to use their material.

For more information check out our website at cas-sd.yolasite.com.

Please come join us,

Gaynor Hintz

Club Reporter

November 5 (1st Sun)

Regular Dance

Dark

November 12 (2nd Sun)

Regular Dance

Irregular, please see website link

Emerald Square Dance Center, Springfield

November 19 (3rd Sun)

Regular Dance

Irregular, please see website link

Emerald Square Dance Center, Springfield

November 26 (4th Sun)

Regular Dance

Dark

Misty Valley Cloggers

No club news received.

November 17 (3rd Fri)

Regular Dance

7:30 - 10:00

Emerald Square Dance Center, Springfield

Cuer: Lauri Weidenhaft

We have two dances a month now on the 3rd and 4th Fridays at the Emerald Square Dance Center on Yolanda and 20th in Springfield OR just off I-105. We dance in Hall A at the front of the building with newly refinished wooden floors and plenty of parking. We just found out that RV parking is permissible when coming to dance at the center for one night only or perhaps more if there is a special weekend of dancing on offer. Please reach out to the club president Joy Pitts at 541-801-55777to be given permission and find out what the ground rules are. Our center sits in a residential neighborhood so rowdy parties are not on order.

Our Sock Hop in September was a big success with many dancers in 50's outfits as always. We thank everyone who came to dance with us, especially those who came from out of town. There is a photo posted in the photo section of the newsletter, and I see that Craig Abercrombie who called and cued that dance for us posted it on Facebook. Perhaps those who missed this year will come join us next year.

Our Oct. 20 dance (third Friday) will feature a chili contest with Bruce Lowther calling and his wife Judy cueing. On Cot. 27 (4th Friday) we will have our annual Halloween dance with Ian Craig calling and Jackie Gale cueing. This is always one of the highlights of the fall season, and we look forward every year to seeing what zany costume our president Joy Pitts will come up with as well as seeing what our members and guests will wear. There is always a great variety.

We send out reminder notices every week before our dances so if you wish to be added to the email list to receive them, please contact Pam Murray at Red_cedar4@msn.com. For more information about our dances or to see photos taken at our dances, please go to singletrees.blogspot.com.

Keep on dancing,

Gaynor Hintz

Club Reporter

November 17 (3rd Fri)

Pie N Ice Cream Night

7:30 pre-rounds; 7:45 plus; 8-`0 mainstream w/3rd tip plus

Caller: Craig Abercrombie

Cuer: Craig Abercrombie

November 24 (4th Fri)

Turkey Dance

7:30 pre-rounds; 7:45 plus; 8-10 mainstream w/3rd tip plus

Emerald Square Dance Center, Springfield

Caller: Roger Putzler

Cuer: Jackie Gale

Spin Cycle Squares -

Link

We continue to dance every Sunday from 4 - 6 with Tim Matteson calling mainstream and plus.  We rarely go dark, but once in a blue moon it happens.  Please call David Lajoie, our president, at 541-520-7311 to make sure we are dancing.

November 12 is a special dance with national caller, Kris Jensen calling.  Kris is from Albuquerque, and is Kurt Jensen's (one of our members) sister.  Please join us!  Sunday, 4 - 6.

   

We dance at the Emerald Dance Center at 2095 Yolanda in Springfield,OR.

All are welcome to join us any Sunday for fun dancing and camaraderie.  We always dress casually.

 

Christina Corelli

Member-at-large

November 5 (1st Sun)

Regular Dance

4:00-6:00 p.m. MS Plus & Advanced Call for dates

Emerald Square Dance Center, Springfield

Caller: Tim Matteson

November 12 (2nd Sun)

Regular Dance

4:00-6:00 p.m. MS Plus & Advanced Call for dates

Emerald Square Dance Center, Springfield

Caller: Tim Matteson

November 19 (3rd Sun)

Regular Dance

4:00-6:00 p.m. MS Plus & Advanced Call for dates

Emerald Square Dance Center, Springfield

Caller: Tim Matteson

November 26 (4th Sun)

Regular Dance

4:00-6:00 p.m. MS Plus & Advanced Call for dates

Emerald Square Dance Center, Springfield

Caller: Tim Matteson

Sweet Home Squarenaders

No club news received.

We dance the second and third Saturdays in each month through June.  7:00 is Plus and from 7:30 - 10:00 is mainstream and rounds

Mike Kious is our caller.  Christina Corelli is our cuer.

Come join us and have a blast!  We dance at the Emerald Dance Center at 2095 Yolanda, Springfield, OR.

Dave Cooper did our free community dance in September as Mike is doing the new dad thing.  We can't wait to meet Aidan Kious, Camille's and Mike's new baby boy.  Dave did a great job and had seven squares dancing the entire time.  Lessons are going on now on Tuesdays from 7 - 8:30 with Roger Putzler.  We have a lot of young men showing up which is great!  We thank Dave, Mike and Roger for their time and effort in making our activity known and a lot of fun!

   

Christina Corelli

Cuer

November 11 (2nd Sat)

Regular Dance

7:00 plus 7:30-10:00 ms

Emerald Square Dance Center, Springfield

Caller: Michael Kious

Cuer: Christina Corelli

November 18 (3rd Sat)

Regular Dance

7:00 plus 7:30-10:00 ms

Emerald Square Dance Center, Springfield

Caller: Michael Kious

Cuer: Christina Corelli

Interstate Highlanders

No council news received.

Klamath Country Squares

No club news received.

November 18 (3rd Sat)

Regular Dance

6:00 PM

Knights of Columbus Hall, Hillsboro

Mid-Willamette Council -

Link

The annual Fall Festival was held on September 30 at the Salem Square Dance Center with two people short of eight squares paid attendance. The floor danced four squares most of the night. Silver City Squares was the host club and did a great job. Leonard Snodgrass was the caller MC and Julia Buchheit stepped in because the scheduled cuer MC was stuck in a traffic backup in the Santiam Canyon due to a wreck. He was several cars behind the wreck. Other talent on stage was Bruce Lowther, Judy Russell, Anthony Egan, and Katy Marteny. There was an abundance of food and lots of friends getting reacquainted from the summertime.

Marilyn Schmit, Secretary

Mid-Willamette Area Council

Braids & Braves

No club news received.

No club news received.

No club news received.

No club news received.

No club news received.

ReVuN'Q

Salem Swingin' Stars

Silver City Squares

No club news received.

Willamette Squares

No club news received.

Portland Area Council -

Link

The PAC welcomed 53 dancers to our 5th Friday dance on September 29 at the Oak Grove Community Club. We saw many outfits true to our theme of "Apples Abound." The caller was Darrell Kalmbach, and the cuer was Julie Stiers. We had a wonderful time and appreciated the hard work of our co-hosting club, the Buzzin' Bees, which received over $100 from the dance proceeds.

We won't have a PAC dance on December 29, due to the proximity to New Year's Eve. See you at the Tri-Council Dance at the Aloha Grange on March 30, 2024.

Buzzin Bees

The Buzzin' Bees will start dancing again on November 11 and are very hopeful KC Curtis will be calling for us by then. (We are dark on October 28 for the Seaside Sashay.) Remember the Bees dance on the 2nd and 4th Saturdays of every month at Messiah Lutheran Church in Vancouver WA. The starting time is 6pm. Hope we see you there!

No club news received.

No club news received.

No club news received.

Rogue-Sis-Q Council

Our next meeting is on the first Tuesday of December. We will not have a 5th Friday dance due to the proximity of New Year's and the fact that The Star Promenaders always have their New Year's Eve dance.

November 7 (1st Tue)

Meeting

4:30pm on even numbered months

Round Table Pizza, Medford

Charlie Brown Squares -

Link

Classes are going well for our SSD students. We have about 12 that are attending our Tue class. We are also continuing with our Mainstream & Plus classes/Funshops on Thursdays, with about 2 squares each week.

Our community dance was a wonderful success with 7 squares of new and experienced dancing to the always fun J Domis. He always brings an enthusiastic group with him.

We are dark for our Oct 21st dance in order to support the Potato Festival. However, we will be having a special "Sunday Stomp" on Oct 29th with Dean Black and Chuck starting at 2pm.

Our next dance on Nov 4th will feature Roger Putzler & Bob Dingman. This is our Toys for Tots & Animal Shelter dance and we encourage those who can to bring a donation for either organization. November 18th is our Sadie Hawkins Dance with Chuck & Elaine.

We will have our Birthday dance on Dec 16th (this year only it will be the 3rd Saturday, rather than the 1st Saturday). We will welcome the wonderful Buddy Weaver to our hall and hope we get visitors, and that the weather cooperates! Rikki will be cueing. The fun starts at 6pm with Advanced squares. We are also busy planning our 2024 Boatnik Festival. We are excited to welcome David & Dawn Mee from Anaheim as our featured talent - they are a great duo!! Please pre-register so we can plan a successful weekend!!

Hope to see you on the dance floor!!

November 4 (1st Sat)

Toys For Tots & Animal Shelter Dance

See flyer

Josephine County Square Dance Hall, Grants Pass

Caller: Roger Putzler

Cuer: Bob Dingman

View Flyer

November 18 (3rd Sat)

Sadie Hawkins Dance

See flyer

Josephine County Square Dance Hall, Grants Pass

Caller: Chuck Simpkins

Cuer: Elaine Funk

Circle-N-Square

New dancer classes resume on Thursday October 12th. at Karuk Wellness Center 6:00 pm We have 4 new students. We continue to brush up on our M/S and some plus calls. We are planning on having a "Fall into the holidays" dance on Sunday November 19th at Evergreen Elementary School. The dance will be from 2 -5 pm Dean calling, Elaine cueing. There will be Advanced from 2-3 then floor level tips with rounds 3-5. Everyone welcome!

November 2 (1st Thu)

SSD

Intro to SSD

Caller: Dean Black

November 19 (3rd Sun)

Fall Into The Holidays

2:00 PM

Evergreen Elementary School, Yreka

Caller: Dean Black

Cuer: Elaine Funk

View Flyer

Kountry Rhythm Rockin Outlaws -

Link

Well here we are.... our 3rd Annual Country Fever Dance/Campout Weekend is behind us! We kicked off our weekend on Friday night after dinner was over, and had everyone standing for our flag salute and then listened to the power American song 'God Bless the USA' by Lee Greenwood.

WOW! What a Weekend of FUN and great memories created! The warmth of family, and love between dancers hugging, laughing and sharing home cooked meals together was just a pure JOY to see!

Our numbers this year were smaller than previous, at 4.5 + squares of people, of which not all that attended were able to dance, but even though we only had 3+ squares on the floor all weekend, everyone had a boot stompin' FUN FUN time! and that's what matters the most!

Jim did a great job calling all weekend, challenged the minds with the Plus dancers at Saturday morning Plus Workshop and Mark cued a great program with a nice variety of rhythms for all dancers to enjoy!

Our Club has had a slight change to our Fall Season home program dancing schedule which is basically...

Mainstream Workshops

1st - 2nd - 4th Sundays 4:00-5:30pm

Mainstream Dance on 3rd Sundays 5:00 - 7:30pm

(We will not be having rounds on our 3rd Sunday's until Dec 17th)

With Cuer: Mark McDonald

Plus Workshops -

Normally Every Wednesday Nights

CHANGE UNTIL JANUARY to...

2nd & 4th Wed Nights

6:00-7:30pm (Time staying the same)

Caller: Jim Steele

Our Dance Location:

Pleasant Ridge Community Hall

7067 SW Canal Blvd * Redmond, OR

November 1 (1st Wed)

Regular Dance

Sundays 4-5:30pm (MS) Plus on Wed - 6-7:30pm

Pleasant Ridge Community Hall, Redmond

Caller: Jim Steele

November 5 (1st Sun)

Regular Dance

Sundays 4-5:30pm (MS) Plus on Wed - 6-7:30pm

Pleasant Ridge Community Hall, Redmond

Caller: Jim Steele

November 8 (2nd Wed)

Regular Dance

Sundays 4-5:30pm (MS) Plus on Wed - 6-7:30pm

Pleasant Ridge Community Hall, Redmond

Caller: Jim Steele

November 12 (2nd Sun)

Regular Dance

Sundays 4-5:30pm (MS) Plus on Wed - 6-7:30pm

Pleasant Ridge Community Hall, Redmond

Caller: Jim Steele

November 15 (3rd Wed)

Regular Dance

Sundays 4-5:30pm (MS) Plus on Wed - 6-7:30pm

Pleasant Ridge Community Hall, Redmond

Caller: Jim Steele

November 19 (3rd Sun)

Regular Dance

Sundays 4-5:30pm (MS) Plus on Wed - 6-7:30pm

Pleasant Ridge Community Hall, Redmond

Caller: Jim Steele

November 22 (4th Wed)

Regular Dance

Sundays 4-5:30pm (MS) Plus on Wed - 6-7:30pm

Pleasant Ridge Community Hall, Redmond

Caller: Jim Steele

November 26 (4th Sun)

Regular Dance

Sundays 4-5:30pm (MS) Plus on Wed - 6-7:30pm

Pleasant Ridge Community Hall, Redmond

Caller: Jim Steele

On October 14, the Family and Friends of Gary Gent gathered to "Yellow Rock" and "Remember". The thoughts and remembrances were all from the heart. There were funny tidbits and a lot of emotional ones. Gary was much loved and a good friend to most all he encountered.

Quite a few of the Stars are heading for Klamath Falls for the Potato Festival, October 20 & 21. They will enjoy the calling of Jim Steele and the cueing of Dave Cooper. It should be a great fun weekend.

On October 28th, the Stars will have a "Spooky Saturday" Dance to celebrate Halloween. Come in costume if you like.

To plan ahead, the Stars are going to have a "Game Night" the Saturday after Thanksgiving. The potluck will be "Thanksgiving leftovers" Come join us.

We are also bringing back round dancing 1 dance a month - Join us on November 11th to honor Veteran's Day with Phil Ramey & Rikki Lobato. Pre Rounds at 7pm and Squares 730-930.

Janet Geiger will also be calling the 1st Friday SSD dance on November 3rd - 630-830pm.

November 3 (1st Fri)

Regular Dance

Friday SSD, Saturday 6:30 Adv or Plus or Rnds, 7:30 MS/Plus

Rogue Valley Square Dance Center, Medford

Caller: Phil Ramey

November 11 (2nd Sat)

Celebrating Veteran's

7pm PreRounds/730pm MS/Plus Tips

Rogue Valley Square Dance Center, Medford

Caller: Phil Ramey

Cuer: Rikki Lobato

View Flyer

November 12 (2nd Sun)

Heavenly Hoedown

3-5 Gospel Music; Potluck @ 530pm

Rogue Valley Square Dance Center, Medford

Caller: Phil Ramey & Janet Geiger

View Flyer

November 25 (4th Sat)

Game Night

Thanksgiving Leftovers & Game Night

Rogue Valley Square Dance Center, Medford

Caller:

View Flyer

South Coast Council

No council news received.

Beachcombers

No club news received.

November 25 (4th Sat)

Regular Dance

dances end 4:30

Beachcombers Cove, Port Orford

Caller: Dave Cooper

Cuer: Cathy Houston

Crook County Mavericks

No club news received.

November 5 (1st Sun)

Regular Dance

Phase 2-4 to the floor

Beachcombers Cove, Port Orford

Cuer: Dave Cooper

November 12 (2nd Sun)

Regular Dance

Phase 2-4 to the floor

Beachcombers Cove, Port Orford

Cuer: Dave Cooper

November 19 (3rd Sun)

Regular Dance

Phase 2-4 to the floor

Beachcombers Cove, Port Orford

Cuer: Dave Cooper

November 26 (4th Sun)

Regular Dance

Phase 2-4 to the floor

Beachcombers Cove, Port Orford

Cuer: Dave Cooper

No club news received.

November 4 (1st Sat)

Regular Dance

6:00-8:00

Harmony Methodist Church, Coos Bay

Caller: Sherm Welch

Cuer: Cathy Houston

November 18 (3rd Sat)

Regular Dance

6:00-8:00

Harmony Methodist Church, Coos Bay

Caller: Sherm Welch

Cuer: Cathy Houston

No club news received.

November 11 (2nd Sat)

Regular Dance

7:00 PM

Coquille Community Building, Coquille

Caller: Bob Houston

Cuer: Denise Harris

Tualatin Valley Council -

Link

The September TVC meeting was held at the Aloha Grange and was presided by TVC President Dale Brabham. We started the evening with a chili dinner and the 26 attendees then continued with the meeting. Reports were delivered by the Council officers and appointees. The Council has re-instated the TVC traveling banner to be awarded to the club with highest percentage of their members in attendance at a TVC dance. The next TVC event will be the New Year's Eve dance at the IOOF Hall, Hillsboro. Our next meeting will be via Zoom on Monday, October 23rd.

The Council encourages all dancers to attend Anniversary dances. It is important to support our dancing community. The Sunset Promenaders Plus will celebrate their 9th anniversary on Thursday November 2nd at the IOOF Hall in Hillsboro, Darrell Kalmbach calling and Tami Helms cueing. See the Sunset Promenaders report below for additional details.

Since the OFN is published about the 20th of the month, you still have time to plan on attending the Mix & Mingle 39th Anniversary October 21st, at the Winona Grange with Randy Dibble and a guest cuer. See their October report below for additional details.

Once again 100% of the TVC club reporters submitted OFN reports, the only Council in the state to do so. While not newsworthy as it is something they regularly do, this is an achievement I do not mind repeating.

Ferrous Steinka




Umpqua Area Council -

Link

No council news received.

November 8 (2nd Wed)

Meeting

meet every other month

Buckeroo Barn, Roseburg

November 11 (2nd Sat)

Veterans Day Parade

Meet 9:30-10:30am, march in parade 11am

View Flyer

No club news received.

November 4 (1st Sat)

Regular Dance

Pre-Rds 7:00pm /Mainstream 7:30pm Every 3rd tip PLUS

Buckeroo Barn, Roseburg

Caller: Sandy Harris

Cuer: Neil Koozer

November 18 (3rd Sat)

Regular Dance

Workshop 1:30p, Student dance 6p, Rounds 7p, Sqrs 7:30p

Buckeroo Barn, Roseburg

Caller: Jim Steele

Cuer: Neil Koozer

View Flyer

November 18 (3rd Sat)

Student level dance

6-6:30pm

Buckeroo Barn, Roseburg

Caller: Jim Steele

View Flyer

No club news received.

No club news received.

November 11 (2nd Sat)

Regular Dance

2nd or 4th Sat, 7pm prerounds, 730-10pm plus

Buckeroo Barn, Roseburg

Caller: Misha Case

Cuer: Neil Koozer

View Flyer

November 25 (4th Sat)

Regular Dance

Dark