---
Your 2017 Randall Award Nominees
---
Alvis & Norma Glock
Sets in Order
South Coast Council
Alvis and Norma Glock are the driving force that keeps the Sets In Order club alive and active. Sets in Order is the oldest square dance club in the world -- 70 years old this ytear -- and that would not have happened without the Glock's continual dedication to the club.
Alvis and Normal have been involved with square and round dancing for over 37 years. They have served as South Coast Council President and Vice President. For the Sets in Order, they have served as President, Vice President, Treasurer and Club Delegate, and worked on the 1993 Summer Festival.
They are at evey lesson, both squares and rounds. They arrive early to unlock the building and set up the chairs. They re the last ones to leave after putting the chairs away and sweeping the floor. They greet everyone at the door on dance nights, get all the food ready for the after-dance potluck, clean up the kitchen and dance hall afterward, making sure everything is cleaner than when they arrived, and again sre the last ones to leave when everything is done.
The Glocks make the arrangements every year for the Sets In Order to dance on the fairgrounds at the Coos County Fair. They spearhead the effort to dance on the parade float in the Coquille Gay 90's Parade and the Coos County Fair parade. They were also part of the Bandon Cranberry Festival parade floats for several years. hey have for many years decorated the community involvement booth at the Coost County Fair, promoting our club and lessons.
When their son-in-law built a new parade float for the club to use, they were right there to help where they could. There were many hours of priming and painting the hand rails and decking in their daughter and son-in-law's yard.
For many years, they also lenmt their help to keep the Beachcombers club in Port Orford from fading away. Through the years, they spent countless hours mowing the grass, repairing the building, and helping host both the July 4th Birthday weekend and the Battle Rock Labor Day weekend.
During all of the years of classes they have helped with, they have taught all three of their daughters to dance, their son-in-law, 3 grandchildren, the grandchildrens' spouses, several of the grandchildren's cousins, and are now preparing for the great-grandchildren.
They are not ones to draw attention to themselves. They are steady as a rock, always there, always to be counted on -- people that a club needs to keep going year after year.
---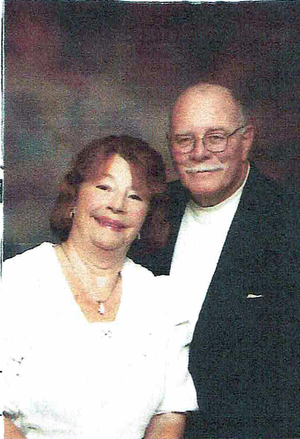 Ray & Zola Jones
Whirl-A-Ways
Emerald Empire
Ray and Zola were both born in Eugene, Oregon and raised in the same rural community west of Eugene, and so are native "webfoots".
They first learned to square dance while stationed in the US Air Force at Laredo, Texas, on the Rio Grande River and border of Mexico in 1972. The name of the club located on the base was the "Rio Ramblers", and they got to square dance in a bull ring in the Mexican town just across the river, this earning a "Bull Ring" badge and an "International" badge for dancing in two separate countries in one evening!
In 1980, after retiring from 20 plus years in the Air Force and moving home to Eugene, they joined the "River Road Mixers" square and round dance club. In 1981 they were asked to be on the Mid-Winter Festival Committee, and have served on the committee continuously for 34 years, including as Festival Chairman in 1988. The Mixers club disbanded in 1986, so in 1987 they joined the Whirl-A-Ways and remain active to this day.
Raymond was president of the Emerald Empire Council in 1985, 1986, and 1992. He was chairman of the area's annual benefit dance in 1986. In 1992-93, Zola was the State Reporter for the Oregon State Federation. In 1991 to 1994, they served on the Oregon Trail Board as Program Chairman for Oregon's 1994 National Square Dance Convention held in Portland. Ray retired from his current occupation in 1997 and he and Zola began traveling in their motorhome, including every winter, February to May, to Southern Arizona, dancing in Yuma with the many Oregon dancers who winter there, and also dancing in Mesa and Tucson. In 2001, they had the honor of being appointed Oregon Goodwill Ambassadors and served in this position for 5 years, taking Oregon square, round, and clog dancing information wherever they traveled. They also served again on the program committee for the Oregon National Square Dance Convention in 2005. From 2009 to 2012 Zola served as State Historian for the Oregon State Federation, and Raymond served as State Federation President in 2011-2012 from being elected First Vice President in 2010. Also in 2012 Zola was elected by the Emerald Empire Area Council as Area Delegate to the State Federation, a position they currently serve in.
They have held offices in their club, and Zola has been the club OFN Reporter and club delegate to the council for several years, and they also help with the council's activities. They continue to attend and help with the Whirl-A-Ways club activities, and always support their club and council.
They have thoroughly enjoyed over the years dancing in the different areas of Oregon by way of festival visitations, State Federation meetings, and special dance weekends, and seeing towns they might not have been to before, and always the best part meeting other dancers and sharing this great activity we're all involved in.
---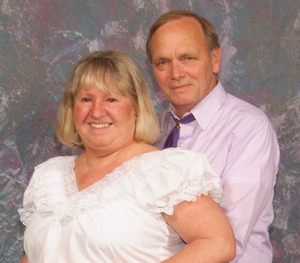 Steve & Valerie Murphy
Charlie Browns
Rogue-Sis-Q Council
Steve & Valerie began their dancing career in 1970 when they joined the Spindrifters Square Dance Club and the Salinas Lariat Swingers Folk Dance Club, both in Salinas, CA. The Lariat Swingers was an exhibition club that did International Folk Dancing all over CA. The Murphys were the babies of the club since they were the only dancers under 50. From there they took a break until 2005 when they returned to square and round dancing in Oregon. While members of the Klamath Country Squares they held offices of President (Steve) and Secretary (Valerie). Also, Valerie was President of the Interstate Highlanders Council and Steve was delegate to the Federation for four years. In 2009 they were appointed Goodwill Ambassadors by the outgoing Federation President. Although they served out their 5 year term in 2014 they still promote square and round dancing by attending an average of 1-2 festivals per month. The Murphys are members of the Rogue Squares in Medford and The Charlie Browns in Grants Pass. They have taught ballroom dancing through the Klamath Community College system and Steve cues and choreographs round dances. They spend their winters in Mesa, AZ which is the Round Dance capital of the world.
---
Ferrous & Karen Steinka
Eager Beavers & Hoedowners
Tualatin Valley Council
Ferrous and Karen are a couple that loves to square dance. They took lessons in 1980 with the Tualatin Twirlers and held offices as New Members Board Representative and President. they organized club outings, picnics, and mystery trips. The following year, they went to plus classes and joined the Columbians, and next year came round dance lessons.
Ferrous and Karen belong to more than one club in the Tualatin Valley Council, and their allegiance to each club is strong and true. They have served on the board of both clubs as Agent of Record for 7 years. They have served as Council Delegates for both clubs and currently serve as Vice President for the Eager Beavers. They are active in the TVC in several areas. As OFN Editor for the TVC for 6 years, he co-authored the rewrite of the TVC Constitution, By-Laws , Practices & Procedures, and the Delegates introduction document. They also compiled and formatted for printing the TVC directory for 2016-17. They assisted several clubs from the PAC, TVC, Blue Mountains Council, and Mid-Willamette Council with their web presence. They wrote, hosted, and maintained nine web pages for various clubs.
In addition, they maintained a variety of useful square dance related tools, lists, and links about the local area and beyond, affording the reader to "Find a Hall" or "Find a Club" with ease. These took several months of time to compile and verify. Tim Roberts states on the Oregon Federation web page, "Ferrous Steinka of the Hoedowners has created a web site that contains maps to virtually every location in Oregon and Southwest Washington that has been used for a square dance in the recent past. This is quite a valuable resource."
Ferrous and Karen love to square dance and can be seen often at many dance venues in the area. They are outgoing and friendly, always quick to give you a hug and shake your hand. They excel in mentoring new dance couples, making sure they are kept informed and made to feel welcome.
Ferrous and Karen understand the importance of advertising lessons, keeping the public informed by using various print media and promiting dances through the use of photos and articles. They have even sold ribbons to festivals put on by other clubs, just trying to go the extra mile to promote dancing.
They received the TVC Recognition Award in 2011 for outstanding contributions, and the Eager Beavers Swenson Award in 2015 for continued outstanding support of the club, and for consistently promoting square and round dancing in the community.
---
Barbara Tipton
Independence Wagon Wheelers & Valley River Dancers
Mid-Willamette Area Council
Barbara started square dancing in 1963, and throughout her 50-plus years in this activity, she has been and continues to be involved in many aspects of this great activity. She is extremely active in all areas of the club and council. She has held offices in the Oregon Federation of Square & Round Dance Clubs as Mid-Willamette Delegate and 2nd Vice President. In the Mid-Willamette Area, she has been President, Vice President, Treasurer and Secretary. At the club leve, she has served as President, Vice President, Treasurer, and Delegate many times. When there is a requirement for someone to fill a position, Barbara continually steps up and quietly takes the reponsibility required.
Barbara was Chairman of the very successful 2008 Oregon Summer Festival held at the Polk County Fairegrounds in Rickreall. An example of Barbara's involvement is her participation in the operation of the resale Clothing area annually at the Oregon Mid-Winter Festival. She is also the first one to open her home when there is a need for a location for a club meeting. In addition to her other involvement, barbara spends a great deal of her time as a member and board ofgficer of the Salem Square Dance Association, Inc. Although Barbara is on the governing board of the Salem Square Dance Center, she continually operates behind the scenes accomplishing such things as scrubbing the floors and toilets prior to one of the renters holding a dance in this facility,
Barbara always has the betterment of square and round dancing and clogging in the forefront of her thoughts. An example of this thinking was when she presented the idea of renting a booth at the Polk County Fair to try and interest folks in our activity. During the 4 days of the fair, the staff collected five pages of names and contact information to be invited to lessons at the Independence Wagon Wheelers.
Barbara was instrumental in the successful completion of the Single Square Dancers Convention held in Portland, Oregon in August, 2014. She handled the registration by herself, and assisted with many other details.
Barbara is an all-around hard working person attemtping to better this activity at all times. There is no job too large, too small, or too dirty for Barbara to jump in and see it through. Everyone who knows Barbara knows you can count on her for anything and everything. When she assumes a responsibility, you can rest assured that the job will be accomplished, and with the desired results. She is always a phone call away from answering your needs.